This unit was created by U.S. history teachers from Purdue Polytechnic High School, as part of the 2022 cohort of The 1619 Project Education Network. It is designed for facilitation across approximately eight weeks, and includes 40 55-minute lessons.
Objectives and Outcomes
Students will be able to:
Examine topics of historical erasure and understand why it is important to study these topics. 
Identify a topic of historical erasure and become content area experts in their topics. 
Conduct research about a topic and develop the skills to synthesize what they have learned. 
Develop their own pedagogical understanding of how to teach younger students.
Unit Overview
In this project, students will be asked to create children's picture books about underreported, or historically "erased," topics in the teaching and sharing U.S. history.  Students will examine why these topics and stories have been historically 'erased' from narratives of U.S. history. They will also develop an understanding of how a historical narrative changes when these topics are put back into the teaching of history. 
In this project, students will practice their research skills to develop a thorough understanding of a chosen topic that they believe has been underrepresented in the teaching of U.S. history. They will then practice presenting this information in a format acceptable to younger students. This project will require that students become experts on their chosen topic so that they can synthesize the material into easily understandable lessons for younger students. The culminating project will ask students to then share their products with local elementary students.
Performance Task
Students will produce a children's book for younger students that aims to engage students in an analysis of topics that they have identified as being 'erased' from the teaching of U.S. history. They will determine their topics as part of their analysis during the unit of several resources. By creating a children's book that effectively synthesizes difficult topics into media acceptable for younger children, students will show that they have mastered understanding of the key themes and details related to a historical topic.
Assessment
This project will be an eight-week PBL (Project Based Learning) Unit made up of regular 'Checkpoints' to monitor students' progress toward specific goals. Each checkpoint will help students build toward their final product. Before moving from one checkpoint onto the next, students will need to show mastery of the previous topics (Checkpoints listed below in daily lesson plans).  
Final Project will be graded with this rubric: [.pdf] [.docx]
Eight-week unit plan for teachers, including pacing, texts and multimedia resources, and performance task for the unit. Download the full unit below and scroll down to browse the unit resources. This unit contains some texts available exclusively in Born on the Water. Learn more about this/these book(s) and how to access it here.
Facilitation Resources
Purdue Polytechnic High School-Specific Standards 
US-A-1: Reflect upon cultural interactions and dynamics between various cultural groups in America.
US-A-2: Analyze the causes and effects of power and dissent among various groups in American history.
US-A-3: Identify and examine historically underrepresented groups and their experiences in the broader historical context of America.
US-A-4: Identify and analyze agents of change that precipitated expansion and migration in American history.
USH.1.3 Identify and tell the significance of controversies pertaining to slavery, abolitionism, and social reform movements.
USH.2.9 Analyze the development of "separate but equal" policies culminating in the Plessy v. Ferguson (1896) case. Explain the historical significance of the denial of African American rights in the South and the effects of these policies in future years
Students conclude this unit plan by creating children's books that reflect a theme/topic that has traditionally been erased from most retellings of history. The book should reflect research on hard history, reflect key details, and engage young readers. The following are examples of children's books created by high school students in fall 2022.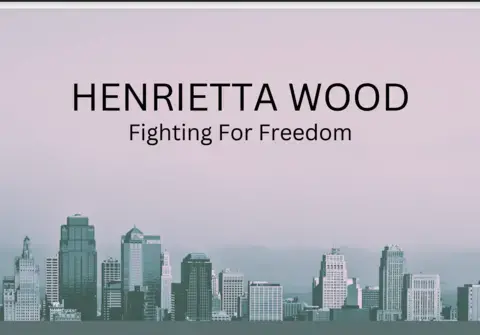 REPORTING FEATURED IN THIS LESSON PLAN