This unit was created by the Kensington Health Sciences Humanities Team, as part of the 2021 cohort of The 1619 Project Education Network. It is designed for facilitation across approximately ten 70–to-85-minute lessons.
Objectives
Students will be able to…
Identify rhetorical devices commonly used in political media
Analyze political media and communication for effectiveness
Connect media narratives to lawmaking
Write a letter to a state representative or create an Instagram campaign evaluating anti-CRT legislation in their state
Unit Overview
The 1619 Project was released to immediate backlash from conservative lawmakers and media. This unit asks students to reflect on the media backlash to the project and connect political media rhetoric to current anti-critical race theory (CRT) legislation.
Students will ask and answer questions on the media's significance in crafting narratives that become law. They will also practice skills of rhetorical analysis.
Performance Task
In the culminating project, students will write a letter to their state lawmakers or create an Instagram campaign evaluating current anti-CRT legislation in their state and its relationship to the truth. In order to demonstrate full understanding of the media literacy aspect of the unit, students will include evidence of media in their letter that they believe influenced the law.
Ten-day unit plan for teachers, including pacing, texts and multimedia resources, and worksheets for student projects. All student worksheets and many readings are available in Spanish and English. Download below, or scroll down to browse the unit resources.
Unit Resources
Analyzing The 1619 Project
Students explore images and text excerpts from "The Idea of America" by Nikole Hannah-Jones in order to identify the thesis of the essay and the thesis of The 1619 Project.

Illustration for "The Idea of America"

Excerpt from "The Idea of America" by Nikole Hannah-Jones [.pdf]

Excerpt from "The Idea of America" by Nikole Hannah-Jones [.docx]
Analyzing conservative media responses to The 1619 Project
Students analyze conservative news media responses to The 1619 Project in order to identify rhetorical and ideological patterns within these critiques of the project:

Newt Gingrich, NY Times launches propaganda campaign on race, Fox News, opinion

"What the NYT's 1619 Project aims to teach your kids" by John Podhoretz, NY Post, opinion

"The 1619 Project Hurts Blacks" by Robert L. Woodson, Wall Street Journal, opinion
Analyzing legislative responses to The 1619 Project
Students examine the current wave of anti-Critical Race Theory (CRT) legislation and the rhetoric it uses.

"What Is Critical Race Theory, and Why Is It Under Attack?" by Stephen Sawchuk, Education Week
(This article provides background on and national context for anti-CRT legislation.)

1776 Commission Final Report
(A federal report produced by a commission convened by the Trump Administration)

Florida Department of Education Rule 6A-1.094124
(An amendment to the Florida Administrative Code via the State Board of Education containing regulations for history teaching, including prohibitions on teaching The 1619 Project and CRT.
Rhetorical analysis resources
This unit contains lessons that introduce students to the concept of rhetorical analysis and to a selection of rhetorical devices such as allusion, repetition, and hyperbole. Handouts and presentations accompany these lesson plans in both Spanish and English.
Common Core Standards
Integrate and evaluate multiple sources of information presented in diverse formats and media (e.g., visually, quantitatively, as well as in words) in order to address a question or solve a problem.
Evaluate an author's premises, claims, and evidence by corroborating or challenging them with other information.
Integrate information from diverse sources, both primary and secondary, into a coherent understanding of an idea or event, noting discrepancies among sources.
Performance Task
Below, explore examples of students' final projects for this unit. Students were given the option of demonstrating rhetorical analysis skills and understanding of local legislation related to critical race theory in schools by crafting an Instagram campaign using multiple slides, or a letter to their local lawmaker.
Letter to a Lawmaker: Student Example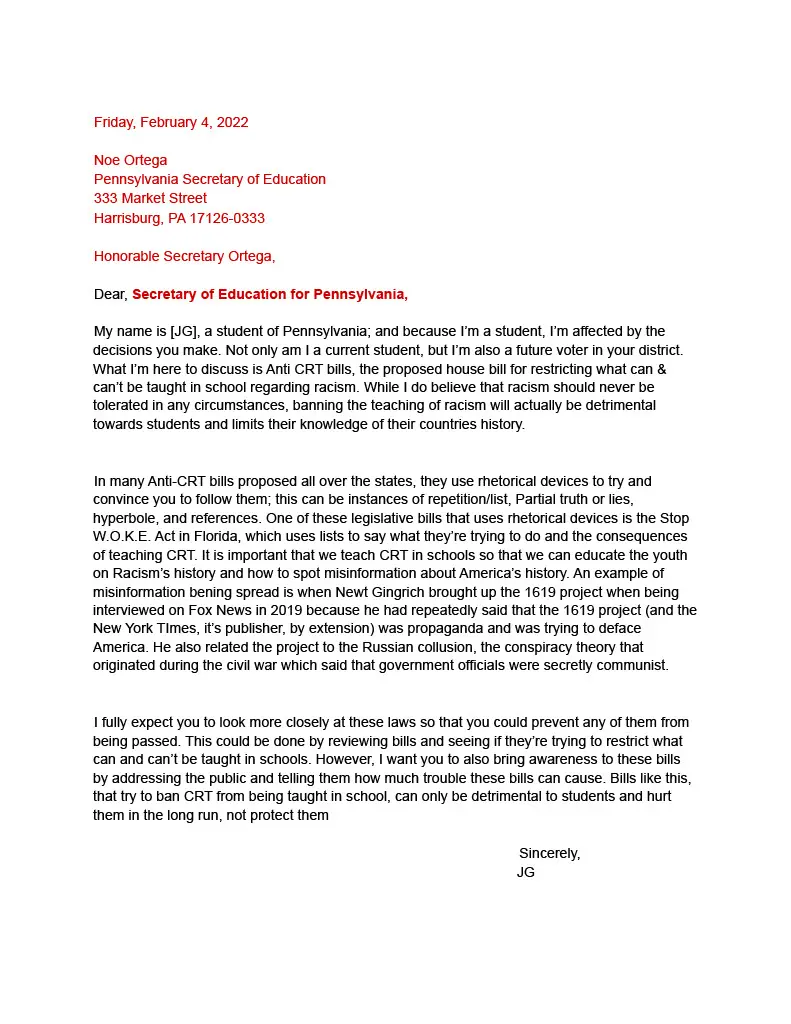 Instagram Campaign: Student Examples