This unit was created by elementary educators in New York, part of the 2022 cohort of The 1619 Project Education Network. It is designed for facilitation across 7 weeks, or 24 60-minute class periods.
Objectives
Students will… 
Describe the systems of power that drive historical and contemporary patterns of environmental racism locally, nationally, and globally
Analyze how access to resources distinguishes neighborhoods along the lines of race and wealth leading to unfair and detrimental health outcomes for marginalized communities. 
Investigate the factors that contribute to structural racism and how structural racism contributes to the disproportionate burden of disease and health disparities often aggravated by the environment.
Essential Questions
How have certain factors contributed to NYC having neighborhoods that have good quality air environments, health outcomes, living conditions, and some neighborhoods that have the opposite? 
Why does wealth differ by neighborhood? 
How does race affect how a person experiences the effects of environmental issues? 
What is Ben Chavis' impact on how we understand environmental issues? 
How do different communities experience environmental racism? 
How can a community come together to make a change?
Outcome
Students will cultivate a civic responsibility to advocate for environmental justice and become active participants of their community in any future role: urban planner, government employee or official, health worker, business leader, or an activist.
Unit Overview
This unit provides elementary age students opportunities to examine how environmental racism not only accelerates the breakdown of communities, but affects already marginalized individuals. 
Students will begin their journey by diving into The 1619 Project resources to connect the problem of environmental degradation and its effects to systemic racism. Students will explore this idea in the context of six unique case studies that represent five different regions of the United States: east coast, west coast, southern America, northern America and middle America). Each week of the unit will center around a different case study through the lens of  key community players. They include urban planners, health care workers, local government officials, business leaders, and student activists. The role of students will be to examine and interrogate the case study and the situation it presents. Students will then work together to investigate further and come up with proposed solutions.
Methodology
By employing a routine inquiry model, students will learn more about the issue of environmental racism, discover a range of solutions, meet agents of change, and eventually see themselves as changemakers working to solve the problem of environmental racism. This model encourages students to engage in a process of active investigation and discovery. Because a key goal of the unit is to present the voices of community players, we have incorporated audio or video recordings throughout the unit. 
For each week we will follow the same format of four steps: 
Learn — Students will first learn by activating prior knowledge through discussion of the essential questions, identifying and learning key vocabulary and then interacting with the case study. 
Engage — Students will engage by using graphic organizers to discuss with their peers the problem identified and further questions that arise.
Investigate — Students will investigate by doing further research of related primary sources and provided resources. They will use a graphic organizer to come up with proposed solutions.
Present — Students will present, either in written or oral form, their final conclusions and proposed solutions.
Within the materials included, we provide the case studies, suggested primary and secondary source documents and resources for further research, as well as suggested teacher steps. We intentionally left these teacher steps brief and general as we encourage teachers to use the materials to design their own lesson plans that will incorporate dynamic teaching activities such as discussion protocols, vocabulary protocols, journaling, small group work, or exit tickets that allow students to engage with the materials and the essential questions. This will also allow teachers to differentiate and scaffold the information. The unit will culminate in a final project for students to present their final understandings.
Performance Task
Weekly Performance Tasks:
Each week, students will craft an infographic, news clip, or powerpoint that captures the issues explored in each case study and the community players contributing to solving environmental racism in their community.
On the first few days, schedule conference time with students where they will choose one of the following methods to demonstrate their learning after each case study lesson. They will do so on the fifth day:
Infographic (on a large piece of paper or poster board)
Tik Tok News Clips (using Flip Grid)
Powerpoint 
All options should include the following elements:
the name of the community player 
the location of the case study
state the problem
discuss what the community player does and how they try to fix the problem
state what questions you still have 
Students can choose to work with a partner or in groups of three to four to capture their learning. As students add to their "document" after each case study, they will be making connections and drawing conclusions on how each community player contributed to environmental justice. At the end of the unit, they will revisit their work and present what they have learned.
Environmental Justice Fair [.pdf][.docx]
At the end of the unit, teachers will arrange for an Environmental Justice Unit Fair that can be held in a gymnasium or in a large area. Classes, parents, and community members will be invited to the Fair.
Seven week unit plan for teachers, including texts and multimedia resources, vocabulary worksheets, and performance tasks for the unit. Download below, or scroll down to read the complete unit plan. This unit contains some texts available exclusively in The 1619 Project: A New Origin Story and Born on the Water. Learn more about these books and how to access them here.
Facilitation Resources
New York State Education Department Grade 4 ELA Standards
4R1: Locate and refer to relevant details and evidence when explaining what a text says explicitly/implicitly and make logical inferences. 
4R3: In informational texts, explain events, procedures, ideas, or concepts, including what happened and why, based on specific evidence from the text. 
4R7: Identify information presented visually, orally, or quantitatively (e.g., in charts, graphs, diagrams, time lines, animations, illustrations), and explain how the information contributes to an understanding of the text. 
4SL1: Engage effectively in a range of collaborative discussions with diverse partners, expressing ideas clearly, and building on those of others. 
4SL2: Paraphrase portions of information presented in diverse formats (e.g., including visual, quantitative, and oral). 
4SL3: Identify and evaluate the reasons and evidence a speaker provides to support particular points4ESS3: Obtain and combine information to describe that energy and fuels are derived from natural resources and their uses affect the environment. 4ESS3-2. Generate and compare multiple solutions to reduce the impacts of natural Earth processes on humans.
Born On The Water Activities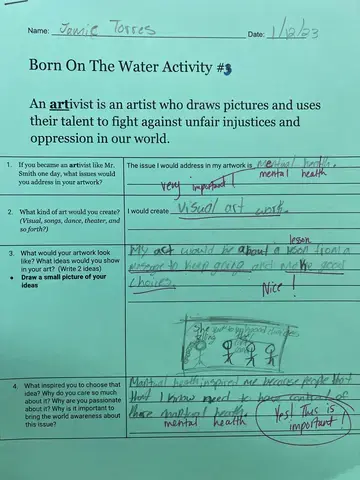 Vocabulary Exercises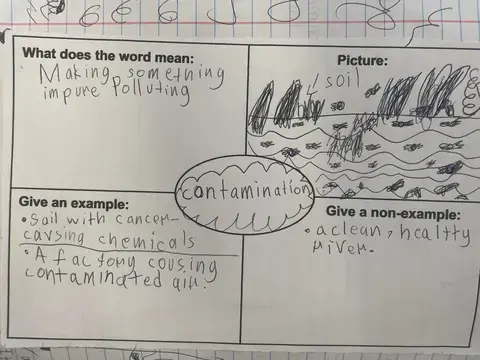 Journal Entries