This unit was created by Renee O'Connor, a 9th-12th grade teacher in Miami Gardens, Florida, as part of the 2022-2023 Pulitzer Center Teacher Fellowship program. It is designed for facilitation across seven 45-90-minute class periods, with work outside of class.
For more units created by Pulitzer Center Teacher Fellows in this cohort, click here.
Objectives:
Students will be able…
Learn about underreported stories, and analyze how those stories differ from other stories they hear about in the news
Evaluate the importance of photojournalism, and how photos are composed to communicate underreported issues.
Analyze how underreported stories reflect issues and experiences that are connected
Research and compose a photo story that reflects an underreported issue in their communities
Research and compose a photo story that reflects underreported strengths and joys in their communities

All too often, only NEGATIVE stories are mentioned about our communities; the positive stories are far too often underreported.
Unit Overview:
This unit engages students in analyzing a  combination of underreported news stories from various countries throughout the world to evaluate why they matter and how the issues presented in the stories connect to students' lives. This unit will focus on the images that are used in these stories and the ways that photojournalism can support engagement in underreported global issues.
Students are also watching the TED Talk "Danger of a Single Story" from Chimamanda Ngozie Adichie, which talks about WHY we should not allow a "single story" to be told about any one individual or set of people.
After analyzing the Pulitzer Center-supported stories and the photos that are used to report on these stories, students will practice sharing underreported stories from their school through a photo assignment.
The classroom will discuss WHY these are underreported stories and how they connect to some of the Pulitzer Center-supported stories they have been researching. They will also reflect on the ways that overreporting of certain issues in a community can lead to stereotypes and biases.
At the end of the unit, students produce  a series of photos which dispel the negative images of their communities and create final projects that explain why these NEW images can serve as underreported stories.
Performance Task:
Formative Assessments:
Students utilize photography and their own to summarize underreported news stories and make local connections to those stories.
Students compose a photo story that reflects underreported issues in their communities
Summative Assessment:
Students will compose photo stories (at least one image) that utilize original images and captions to communicate underreported stories from their communities. The photo stories should reflect skills they explored throughout the unit, and captions should reflect their understanding of the issues explored in the unit. 
This is our underreported story—the GOOD things that happen—and our response to "A Danger of a Single Story."
Seven-lesson unit plan for teachers, including pacing, texts and multimedia resources, guiding questions for group discussions, performance task instructions, and a grading rubric for the unit.
Unit Resources:
Common Core Standards:
ELA.10.C.4.1: Conduct research to answer a question, refining the scope of the question to align with findings, and synthesizing information from multiple reliable and valid sources.
ELA.10.C.2.1: Present information orally, with a logical organization and coherent focus, with credible evidence, creating a clear perspective.
ELA.10.C.1.3: Write to argue a position, supporting claims using logical reasoning and credible evidence from multiple sources, rebutting counterclaims with relevant evidence, using a logical organizational structure, elaboration, purposeful transitions, and maintaining a formal and objective tone.
ELA.12.R.2.4: Compare the development of multiple arguments in related texts, evaluating the validity of the claims, the authors' reasoning, use of the same information, and/or the authors' rhetoric.
The following examples represent engagement by students from Miami Gardens, Florida, who engaged with this unit in spring 2023
Students start the unit by exploring the term "underreported story," identifying underreported stories they would like to explore, and then using a Microsoft form to capture their analyses of the articles they selected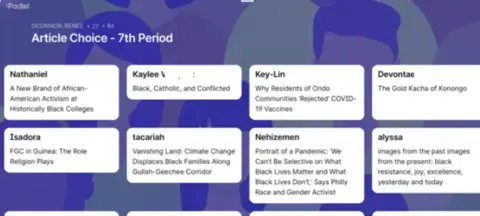 2. Next, students analyze the ways that photos can be composed to communicate underreported stories in their communities. They practice using photos to summarize an underreported global news story with their classmates. They then compose two photo projects capturing underreported stories in their communities: The first reflects underreported issues in their communities and the second aims to counter dominant media narratives of their communities by reflecting images from everyday life.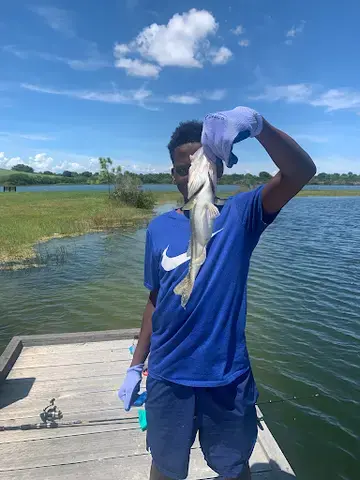 REPORTING FEATURED IN THIS LESSON PLAN