Pulitzer Center Update June 30, 2023
Welcoming the Third Cohort of The 1619 Project Education Network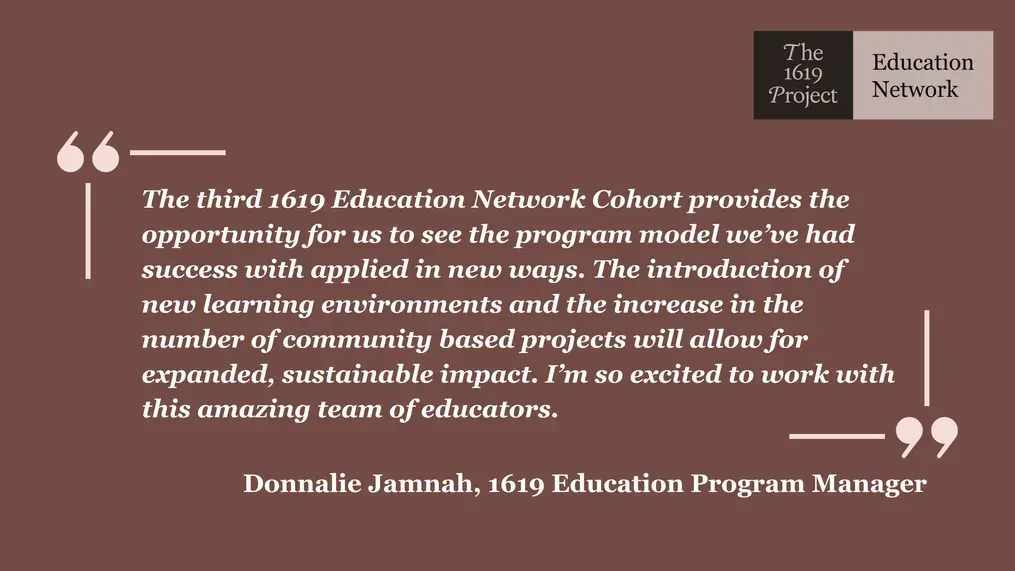 The Pulitzer Center is delighted to welcome our newest partners in our mission to cultivate a more curious, informed, empathetic, and engaged public through educational programming and resources: the third cohort of The 1619 Project Education Network.
23 teams of educators from across the U.S. were selected to form the third cohort of the Network. The Network is a collaborative program culminating in projects that challenge learners to authentically and critically engage with materials from The 1619 Project and the world around them. These teams represent 14 states and the District of Columbia. The teams of educators will collaborate with award-winning journalists, noted historians, and the Pulitzer Center education team to explore the content of The 1619 Project from The New York Times Magazine and create curricular resources. These resources will be available to the public through the Pulitzer Center's 1619 Education Portal.
For the first time in our Network's history, the cohort includes professors working in schools of education. Additionally, many Network projects include community engagement beyond the classroom. This historic cohort comprises educators and administrators serving Pre-K through 12th grade students, program directors, Ph.D. students, professors, department chairs, and historical consultants. Our K-12 educators instruct music, art, creative writing, English, Spanish, African American studies, social studies, and humanities courses in classrooms nationwide. Meanwhile, the professors in our Network develop and instruct classes for undergraduate and graduate students in psychology, early childhood development, social studies education, urban studies, and ethnic studies. 
Collectively, this cohort represents eight public schools, five charter schools, three independent schools, nine universities (including one historically Black university), two community colleges, one regional education service agency, six school districts, two non-profit organizations, and one historic site. Some of our teams were born from collaboration across school districts and partnerships between schools and community organizations or K-12 educators and professors. These teams reflect our commitment to curating learning spaces beyond the limits of classroom walls. We are thrilled to see the unique projects developed out of such partnerships.
I am so very grateful and honored to add my efforts to this great collection!

Bernice M., Exploring Common Roots
This is a very important project and we are so excited to be a part of it.

Dr. K., R.E.I.A Group
I am so grateful to be accepted into The 1619 Project Education Network! It's a dream to be involved in this work and Network.

Charla A., Public Achievement
The second cohort of The 1619 Project Education Network, which included 35 teams from 16 states and D.C., completed their projects at the end of the 2022-2023 school year. Their final units (including student work!) are now being published to 1619education.org/curricular-resources.
The 1619 Project Education Network was launched in response to educators across the United States sharing their enthusiasm for teaching The 1619 Project in classrooms and voicing the need for support and community-building opportunities to implement the project successfully and rigorously. 
This year's cohort convened virtually for the first time on May 13, 2023. It will gather throughout the length of the program to analyze 1619 Project themes and resources, engage in professional development, discuss and revise project drafts, explore challenges, and celebrate progress as they write and execute their project plans and share their learning.