Pulitzer Center Update September 13, 2023
Documenting Chicago's West Side: Student Filmmakers Celebrate Arts, Culture, and Community
In the final scene of Expressions of Hair, a documentary short created by young journalists in Chicago, students in the Young Barbers program discuss the impact of learning barbering skills by hosting public events. "We did a lot of team building and just community building and networking," said Lorenzo, a student in the program. "We tried to put ourselves out there to get the feel of having our own personal business." 
Expressions of Hair is one of four films created by Chicago teens enrolled in a six-week summer documentary filmmaking program directed by Free Spirit Media, a local nonprofit. The film is an example of how young filmmakers chose to elevate teen perspectives and celebrate their contributions to culture, art, and community in Chicago.  
Each year, the Pulitzer Center connects students with seasoned journalists who coach students through the creative process. This year marks the program's 13th year of partnership between the Pulitzer Center and Free Spirit Media, a collaboration made possible by the Julian Grace Foundation. 
"The Pulitzer Center's contributions to our program [are] always appreciated and welcomed! Every time the journalists come in and speak with our teens, it […] sparks new questions. The bonds they create during the few days they are with the teens really stay with them," said Danielshé Rodgers, a program manager at Free Spirit Media.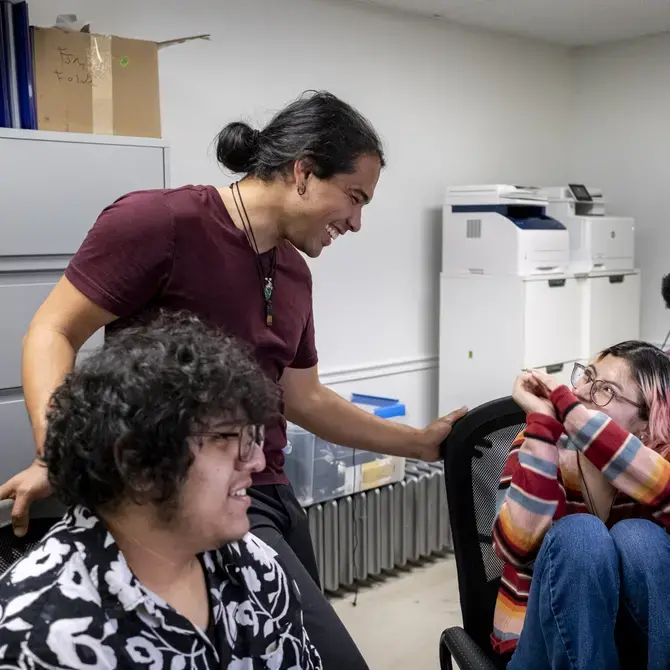 Journalist Eli Hiller working with students. Photo courtesy of Terrance Patterson.
In August, mentors Eli Hiller, Ashonti Ford, and Josee Molavi flew into the city to run skill-based workshops and coach students through the development and shooting stages of their films. 
Their impact on students goes far beyond skill-building. They "shared creative ways to get B-roll and sound bites. [They also] helped them overcome their shyness and get into their communities […] to tell their stories," said Rodgers. "They motivat[ed] students to be creative and think outside the box," added Terrance Patterson, a program coordinator at Free Spirit Media. 
The 20 students enrolled in the program were split into four small production companies and worked on four unique projects, each assigned a journalist mentor. After journalists flew home, they committed to weekly conference calls with their production company. "[Hiller] gave us advice and made sure we were on the right track. Whenever we felt down about our project, he motivated us to keep going," said a student. 
The program resulted in four compelling documentaries about underreported issues relevant to West Side communities. A consistent theme throughout all the films is the importance of cultivating mental health for ourselves and our communities, reflecting a post-COVID shift in education to provide students with more spaces and tools for personal and relational growth. "Mental health is a worldwide issue everyone goes through," a student said. These films are examples of how students are not only leading these conversations but are also recognizing the connection between mental health, personal growth, and empathy for others.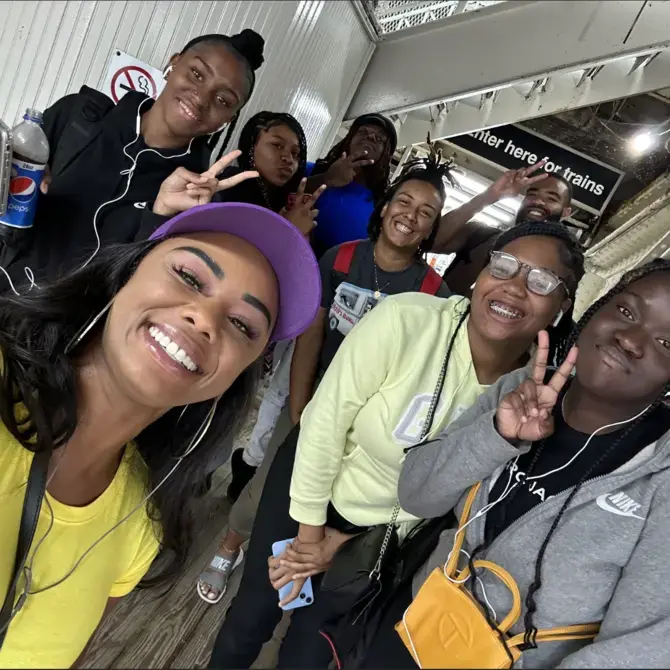 Journalist Ashonti Ford with students in Chicago. Photo courtesy of Ashonti Ford.
Educated in the Arts
In Educated in the Arts, filmmakers Sierra, Dayshawna, Isaiah, and Mikalia interview a range of artists and educators on the importance of schools ensuring all students access to arts programs. From academic performance, self-expression, and the capacity for joy and connection, the film captures both the power of an arts education and the consequences of a childhood without one. 
"My group's project was about the positive impact of arts education programs on students," shared coach Josee Molavi. "I felt like the topic was meta because the students not only proved the point in the film, but they themselves participated in an arts education program through FSM. I could see that it gave them a sense of purpose and discipline. It was inspiring to see students showing their passion—learning how to creatively express themselves. It helped me remember that creation is a crucial process for relating to the world around us, not only professionally, but personally." Watch Educated in the Arts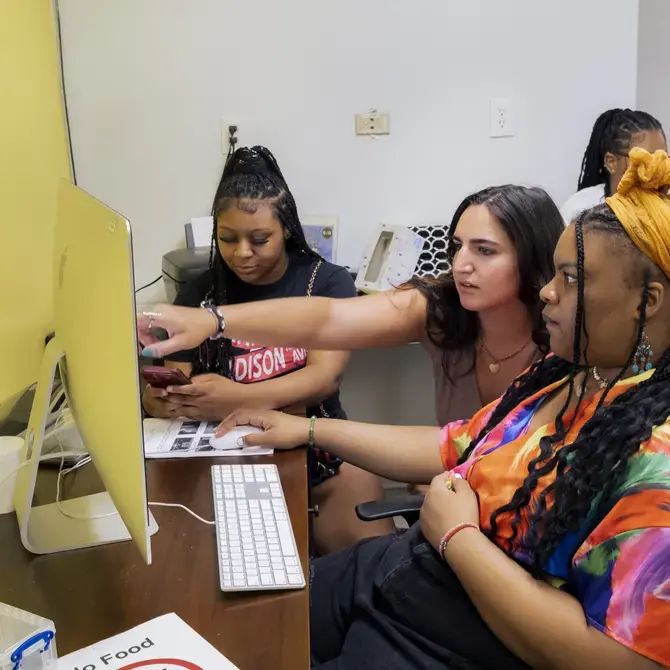 Journalist Josee Molavi brainstorming ideas with students. Photo courtesy of Eli Hiller.
How Dance Affects Mental Health 
How Dance Affects Mental Health explores the power dance has to cultivate personal expression and freedom and build community. All dancers themselves, filmmakers Ellegance Hemingway, Charisma Thomas, Ladaisha Minor, and Nakiya Cossom share the impact that dance has on their confidence, happiness, and sense of leadership. The film also captures the experience of belonging to after-school dance teams through a string of conversations with dance educators and team leaders. 
Coached by Ashonti Ford, the young creatives who produced this film shared the impact Ford had on their process. "She made sure we understood what we were doing," Hemingway reported. "She was a good helper," added Thomas. "She gave good advice; she made sure we knew where we went wrong ." Watch How Dance Affects Mental Health
Little Companions
Like a love letter to dogs and dog owners, Little Companions documents the transformative experience of owning and caring for dogs. Chicagoans share their deep affection for their pets and describe the impact that pet adoption has had on their mental health and overall well-being. 
Initially intended to focus on pet adoption, young creative Luis Ortiz shared how obstacles in the filmmaking process shifted the subject of the final project: "Our initial idea was more focused on adopting, but since the people we reached out to did not respond back, we instead focused on our current idea. I feel as if the documentary is important because we are all holding on to the idea of adopting or volunteering for animal shelters, so this documentary works in both ways, providing information AND encouraging adoption and volunteering."
Co-creator Alenis Rios described the support that mentor Eli Hiller provided the team as team members navigated through this challenge: "He gave us advice and made sure we were on the right track. Whenever we felt down about our project, he motivated us to keep going." Watch Little Companions.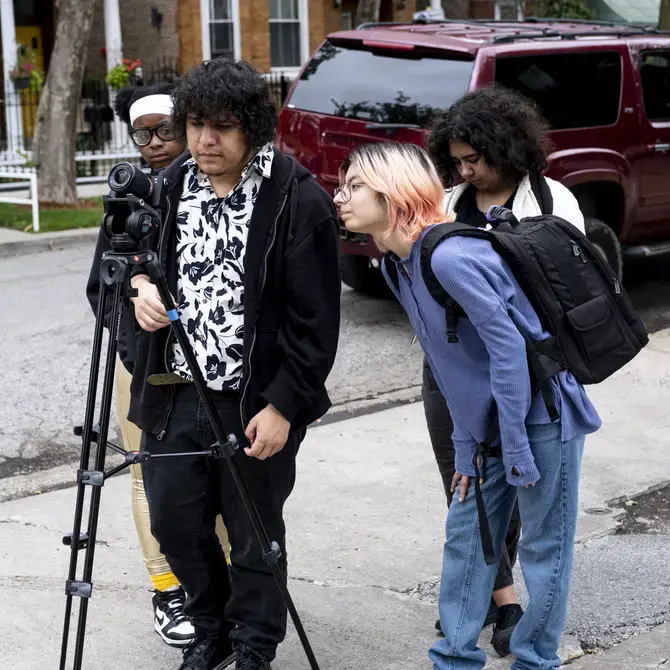 Students filming their documentaries in Chicago. Photo courtesy of Eli Hiller.
Expressions of Hair 
Expressions of Hair explores the culture around hair salons and barbershops in Chicago. The film highlights the many ways West Side community members connect to the hair industry, capturing how customers connect hair to self-worth and how barbers and hairstylists hone their craft to support their clients. Filmmakers Shania Wimbley, O'Shea Raggs, and Asia Burns also examine the rise in entrepreneurship in the space and how initiatives like the Young Barbers Program empower young people to practice barber skills and see themselves as young business owners. Ultimately, these young filmmakers wanted to capture "how much hair means to people." (O'Shea Raggs)  Watch Expressions of Hair.
Students celebrated the completion of their films at a final screening at the Free Spirit headquarters in the North Lawndale neighborhood. Many shared how the program inspired them as artists, students, and human beings. Isaiah Grissett shared his recommitment to creating content: "[I want to] focus on YouTube and editing my videos even better." Ellegance Hemingway reported that her greatest takeaway was to "be patient when learning something new."
Returning student Luis Ortiz shared his appreciation for Free Spirit Media and programs that encourage students to create. "I am allowed creative liberty over a subject I am interested in and given the tools and support to build [on] this idea."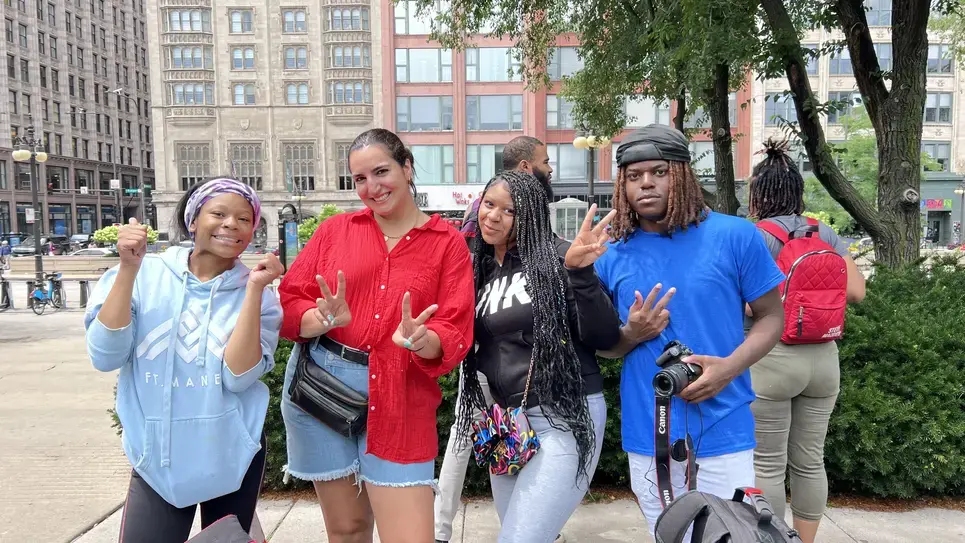 Students in the field with journalist Josee Molavi.