The reality of climate change is unequivocal, its effects are already playing out in every region of the planet, and we need to act now before the outlook gets worse. That was the warning message from the U.N. Intergovernmental Panel on Climate Change (IPCC) in a 4,000-page report, published Aug. 9, which laid out in methodical detail the ways in which human activity has set life on the planet on a collision course.
The U.N.'s climate-science body couldn't have been more clear: if we continue to emit greenhouse gases at current rates, the effects of climate change will be catastrophic and irreversible. "Recent changes in the climate are widespread, rapid and intensifying—unprecedented in thousands of years," says Ko Barrett, a vice chair of the IPCC.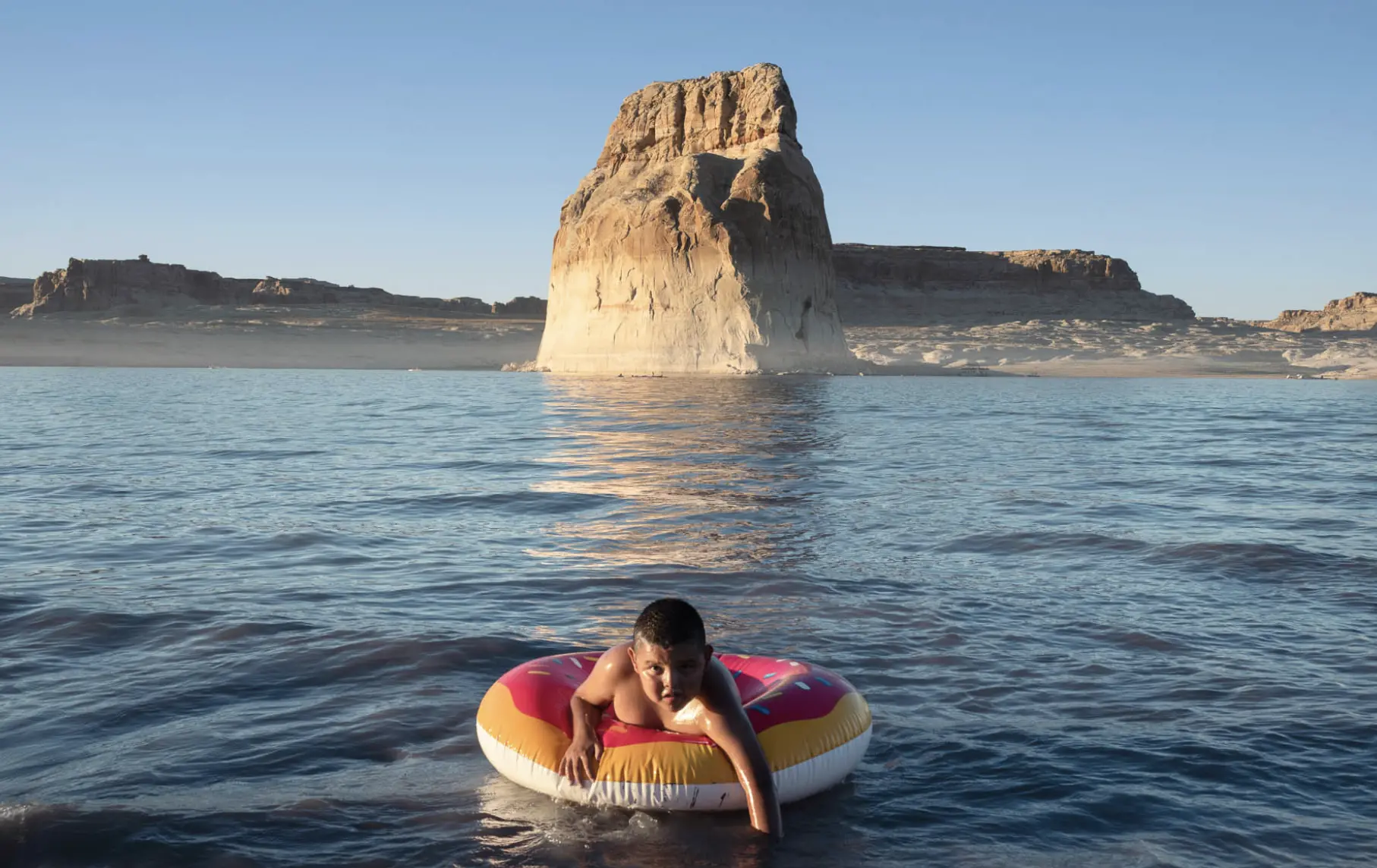 Page, Utah
Keethan Tsosie, 9, swims off Lone Rock Beach in Lake Powell while visiting from the Many Farms, Ariz., area of the Navajo Nation on June 12. Hovering at around just 32% of capacity as of Aug. 14, America's second largest reservoir has reached a low unseen since it was being filled in the 1960s. Over the past year, the water level dropped some 52 ft. The U.S. Bureau of Reclamation has begun a plan to release water from upstream reservoirs in a bid to keep Lake Powell above a level that would threaten hydropower generation at Glen Canyon Dam.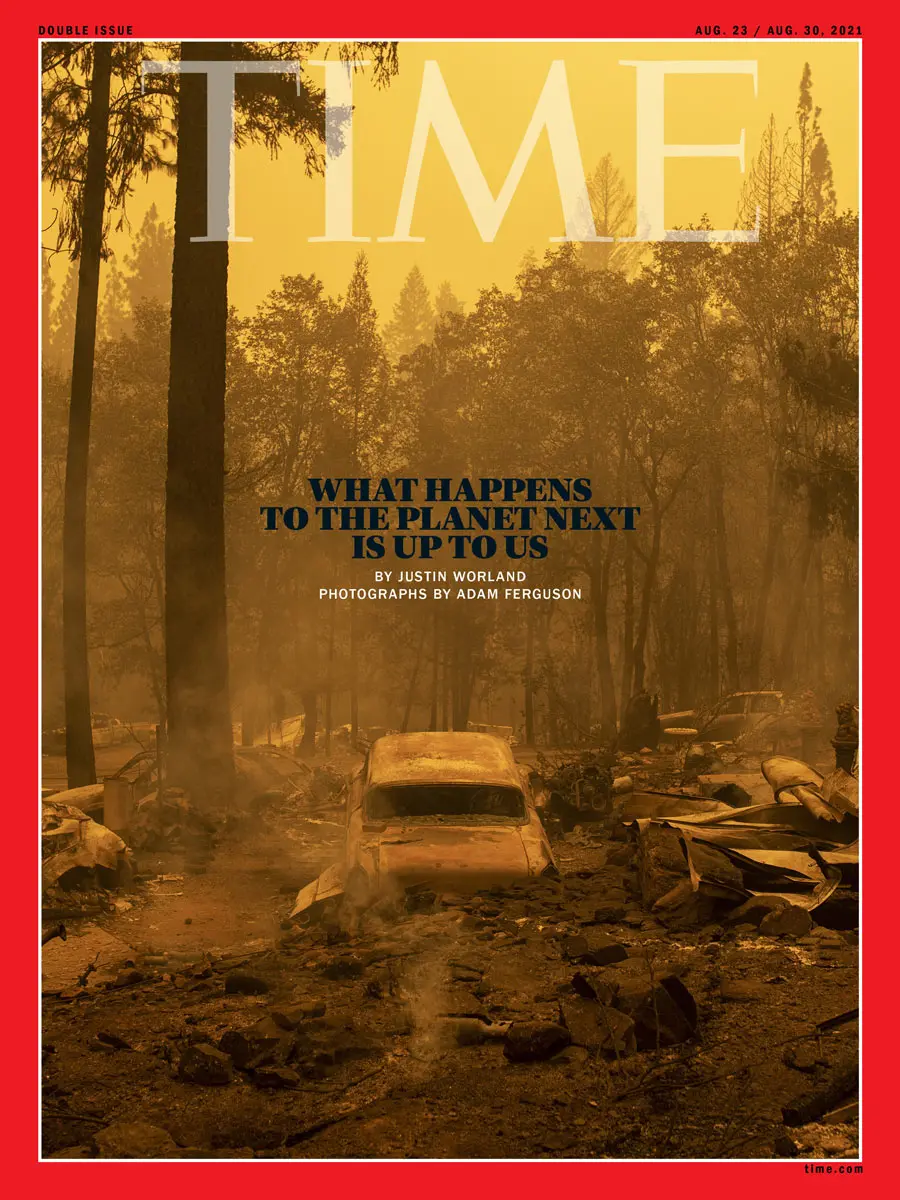 ---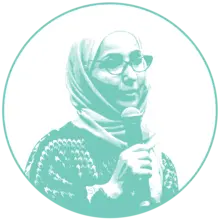 As a nonprofit journalism organization, we depend on your support to fund more than 170 reporting projects every year on critical global and local issues. Donate any amount today to become a Pulitzer Center Champion and receive exclusive benefits!
---
It's a revelation shocking to read and perhaps painfully obvious for the countless people who are already feeling the effects—from Germans whose homes were wiped away by floods this year to farmers suffering from ongoing drought in Central America. In the U.S. the nascent climate crisis appears most dramatic in the West, where a combination of drought and extreme heat has created life-threatening conditions.
TIME sent photographer Adam Ferguson on the road across six Western states—from Arizona to Washington—for more than five weeks in June and July to document how climate change is shaping life on the ground. He captured images of empty reservoirs and families who lost loved ones to unbearable heat. He encountered farmers worried about watering their crops and saw the devastation left by wildfires. It's a searing warning from a particularly iconic region on a planet that is, in so many places, on fire, parched or underwater.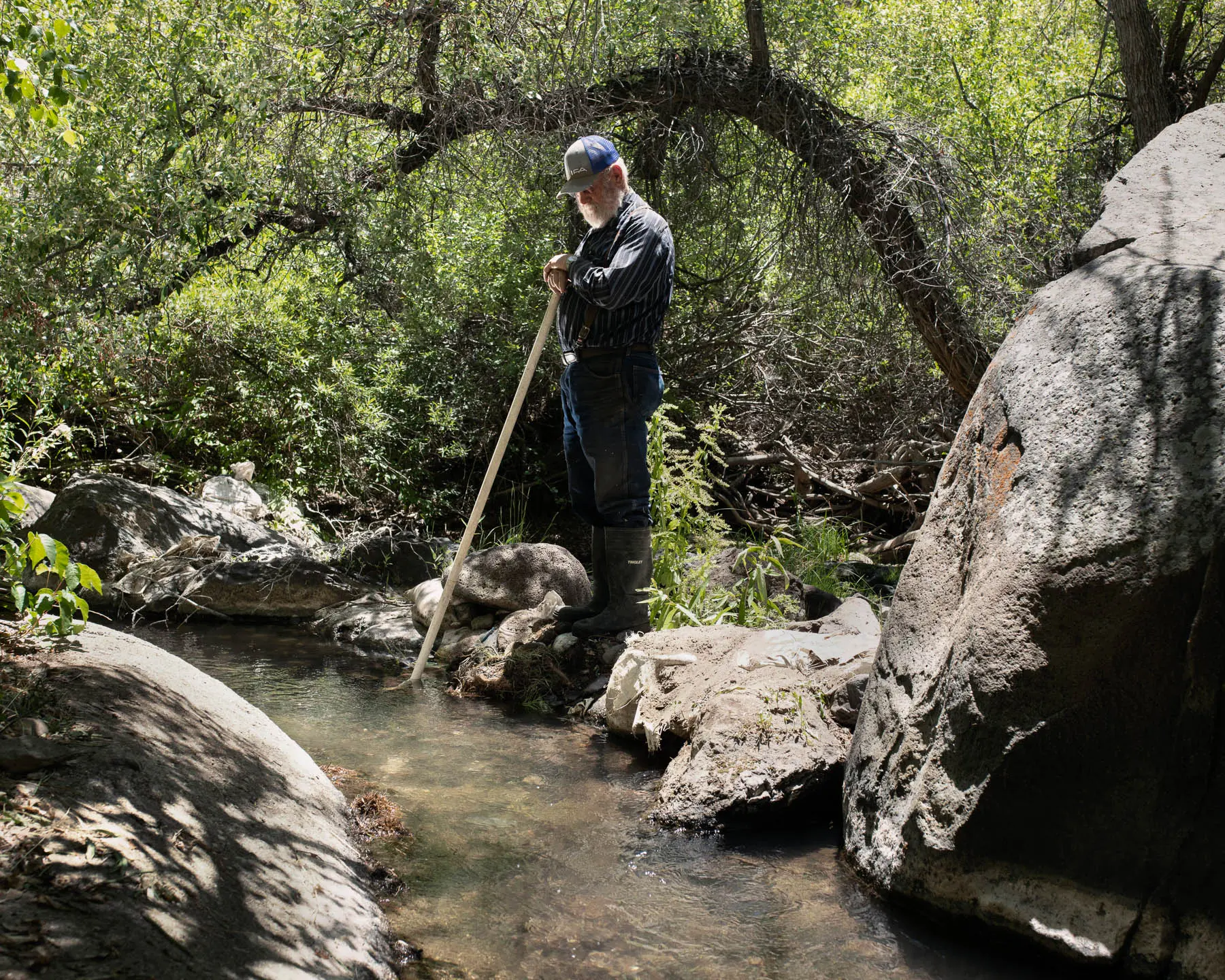 Near Central, Utah
Farmhand and local watermaster Richard Crockett checks the level of a canal on June 11. "Our water situation has never been this bad," says Crockett, 78. "Right now, everybody's praying for rain. But the forecasters say we're not going to get any," he adds. "Most farmers and ranchers in this area are facing extinction." Up north, part of the Great Salt Lake dropped to its lowest level since record-keeping began in 1847.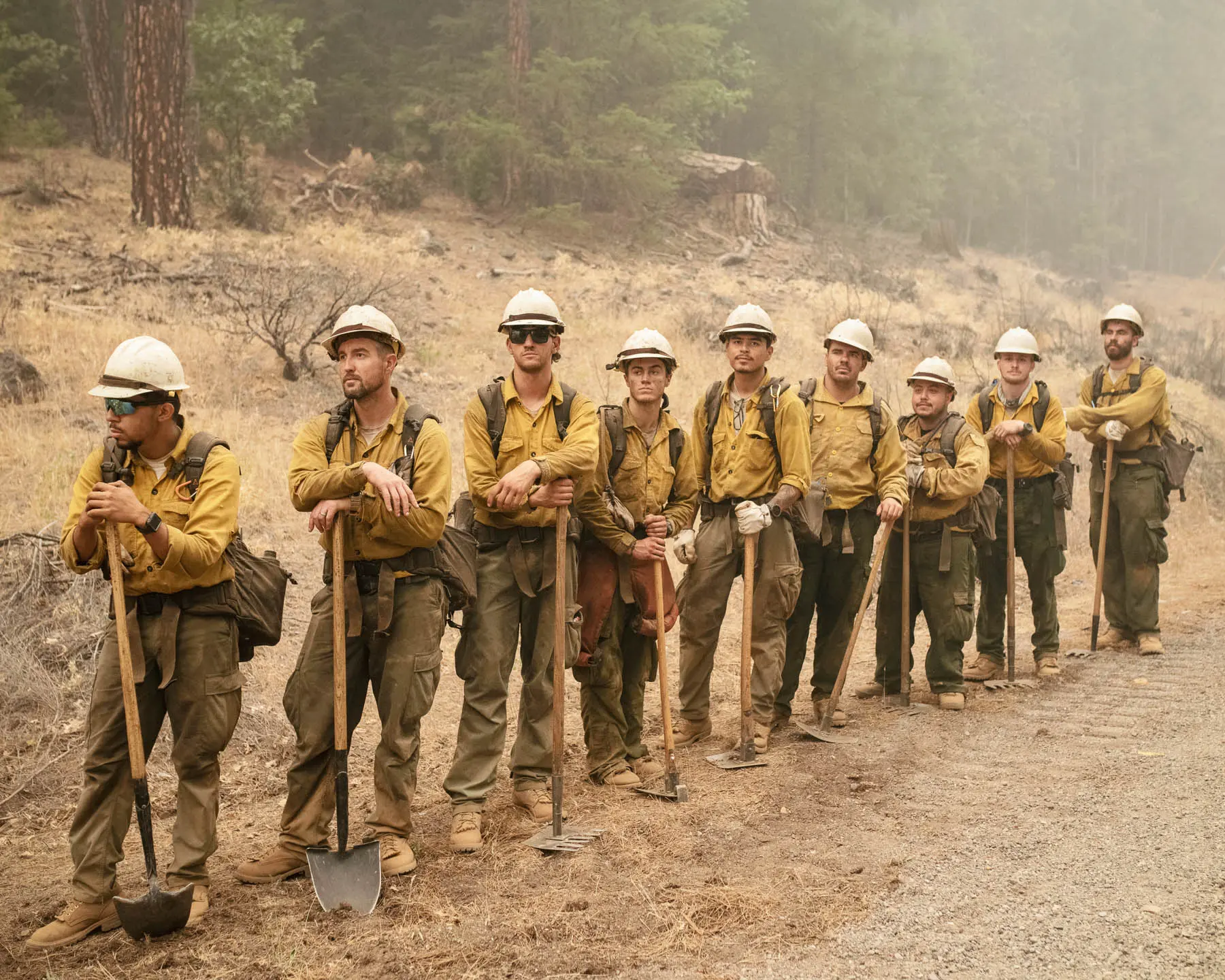 Near Crescent Mills, Calif.
Firefighters stand for a portrait while fighting the Dixie Fire, the largest single fire in California's history, on July 25. The blaze, which started on July 13, had burned more than 554,000 acres by Aug. 15 and was only 31% contained.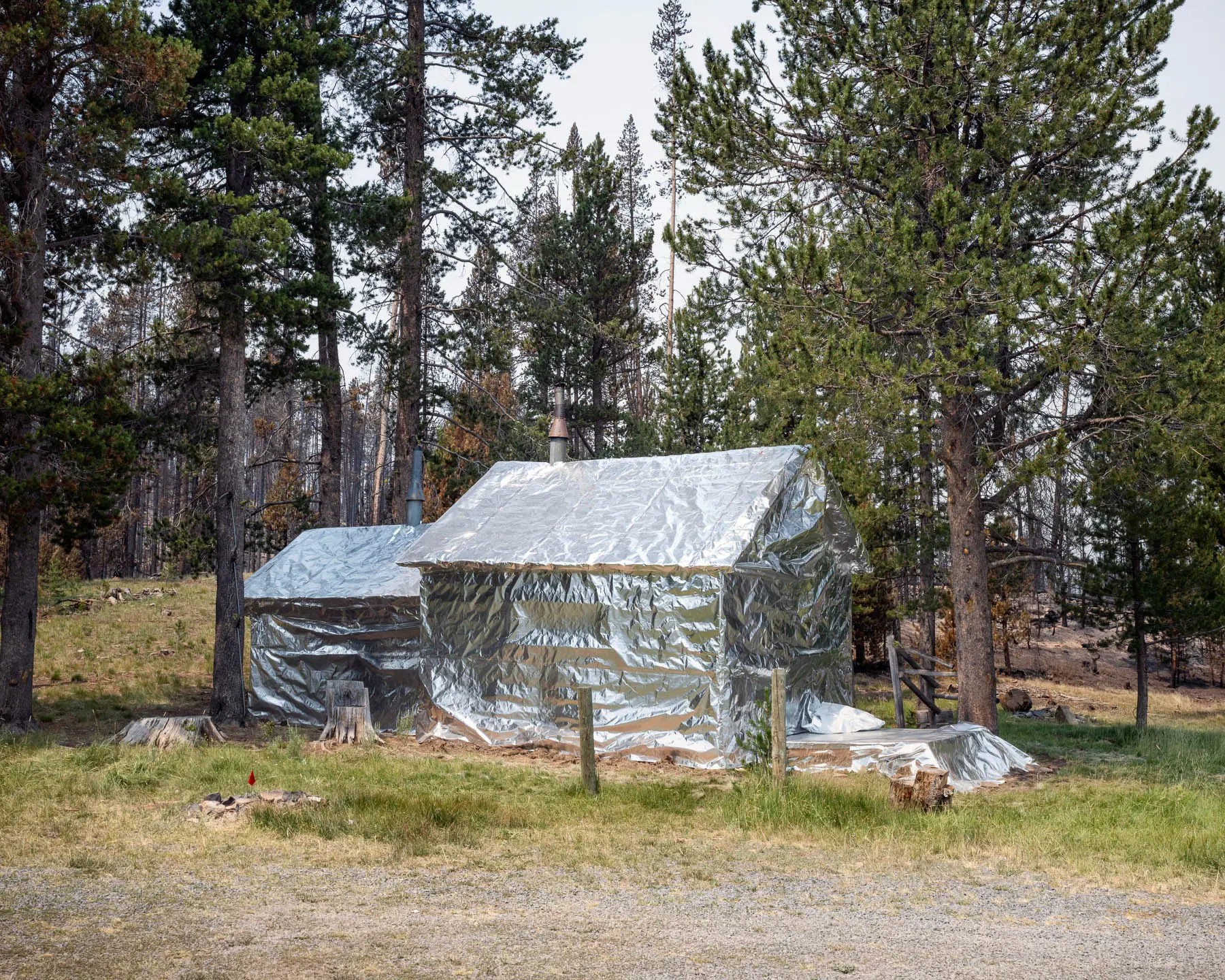 Fremont-Winema National Forest, Ore.
In advance of the Bootleg Fire's approach on July 23, a structure was wrapped in fire-retardant protective sheeting in a bid to save it from the flames. Forestry officials found it had been caused by lightning and went undetected for days before July 6, when it was reported. The fire, which for a time was America's largest of the year, burned more than 413,000 acres and led to the evacuation of some 2,000 homes. By Aug. 15, it was 100% contained.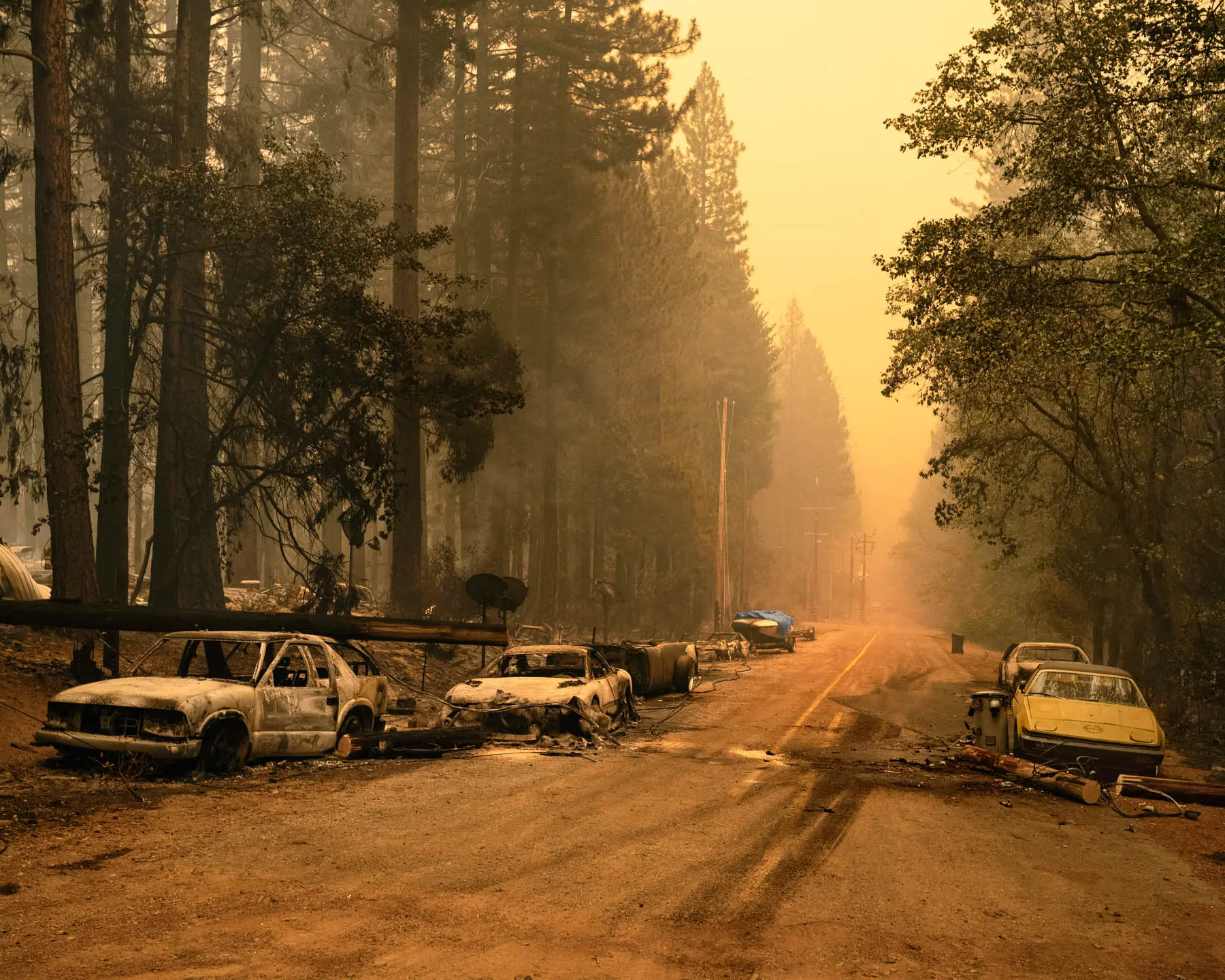 Indian Falls, Calif.
Abandoned vehicles line a stretch of roadway on July 25 after the Dixie Fire burned through the area. As of Aug. 15, per a Cal Fire tally, America's largest wildfire of the year had destroyed more than 1,100 structures. For a time, smoke from the blaze led Denver's air quality to rank among the world's dirtiest.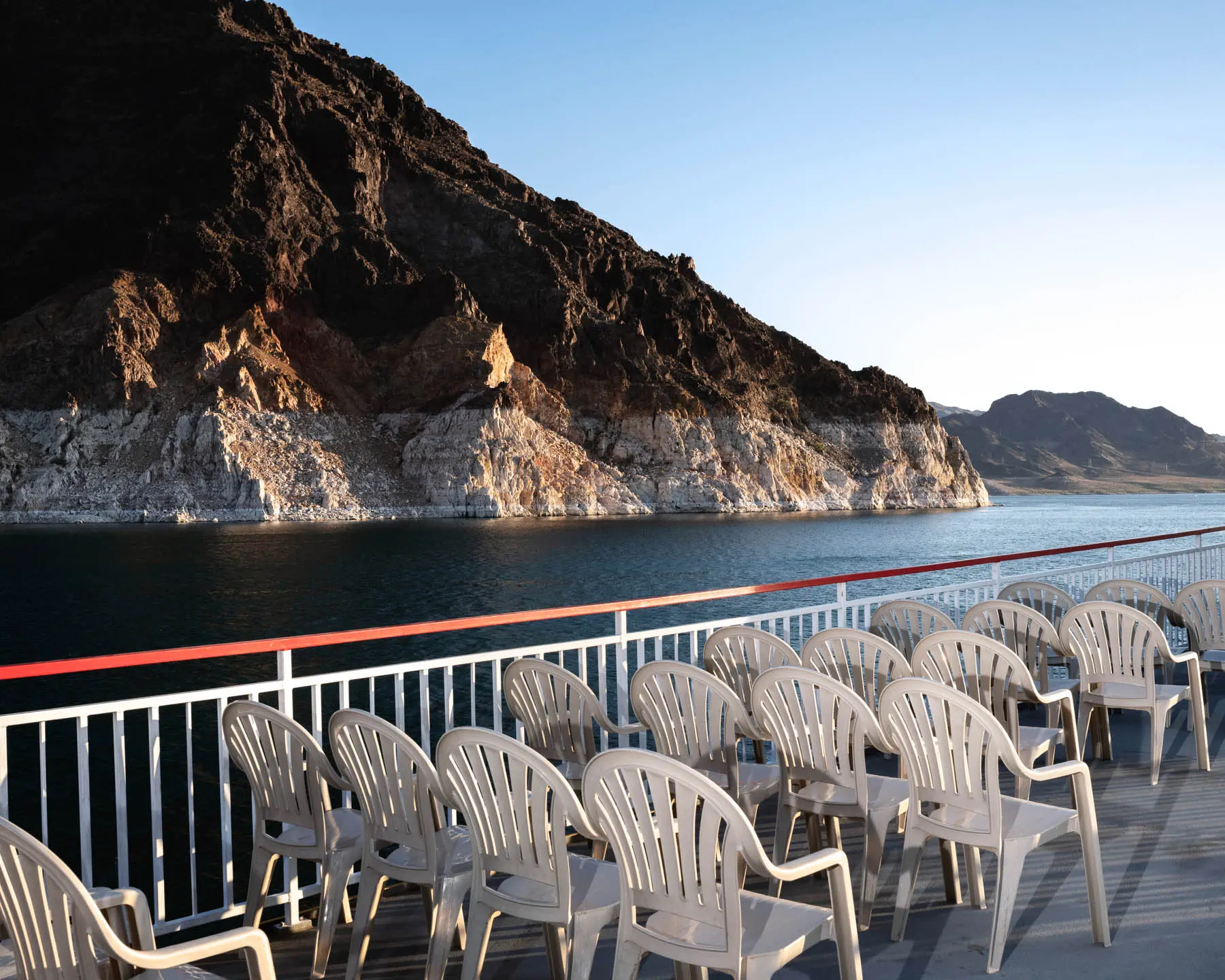 Lake Mead, Nev.
A view of the "bathtub ring," or high-water mark, from a largely empty Lake Mead Cruises boat on June 4. Nearly a week later, the water level reached its lowest point since being filled in the 1930s, after the construction of the Hoover Dam. Arizona farmers are expecting the first-ever cuts next year to their water supply from the mighty Colorado River. A contingency plan signed by Western states in 2019 will supplement some of the farmers' lost water.
Goodyear, Ariz.
Jody Marquess, 43, looks at the recliner where his stepfather, John Ramer, died on June 17. It was Marquess's birthday, but he was concerned about the 69-year-old, who eschewed air-conditioning. "He had tough-guy syndrome," Marquess says, recalling a "stubborn" and "very frugal" but also "honest and simple" man. When Marquess stopped by that day—the high reached 118°F—he installed a portable AC unit for Ramer, who was sleeping. Two hours later, when he returned to drop off ice cream, Ramer was dead. From April through July, Maricopa County confirmed 47 heat-associated deaths, more than triple the figure confirmed by the end of the same period last year. Marquess had long wondered if this was how Ramer might die in Arizona: "I just didn't think it was going to be this soon."
"Our water situation has never been this bad. Never."

Richard Crockett
Global average temperatures have ticked up about 1.1°C since the Industrial Revolution, according to the IPCC, but that seemingly small number obscures the enormous and immediate spikes in temperature in particular places. The IPCC report, a collaboration among 234 authors, cites more than 14,000 studies and references, covering all the shifts that are occurring in the environment, from the way water circulates to the level of moisture in soil. At the core of all these changes is heat.
Heat waves that bring high temperatures that extend for days have become more frequent, and some areas, particularly vulnerable regions like the Arctic, are warming faster than others. These higher temperatures have a range of trickle-down effects: an altered jet stream, more intense drought and even increased precipitation, to name a few.
Any one of those ripple effects would create serious problems if it struck on its own, but when multiple ones land at the same time, the result is exacerbated. That's what is happening right now in the Western U.S., where residents are experiencing what the IPCC has called a "compound extreme event." In the U.S. west this year, heat has evaporated the water supply for farmers and ranchers—not to mention local communities. States have reported hundreds of excess deaths as bodies collapse without air-conditioning in unmanageable temperatures. And heat has led to drought, which has dried up forests and created tinder for wildfires.
"It's the combination of heat waves, drought conditions and also windy conditions that allow fire propagation," says Paola Andrea Arias Gómez, an IPCC co-author and associate professor at the school of the environment at the University of Antioquia in Colombia. That's led to record fire numbers: Last year California experienced the worst fire season on record; this year the state has experienced nearly three times the acreage burn compared with the same point in 2020.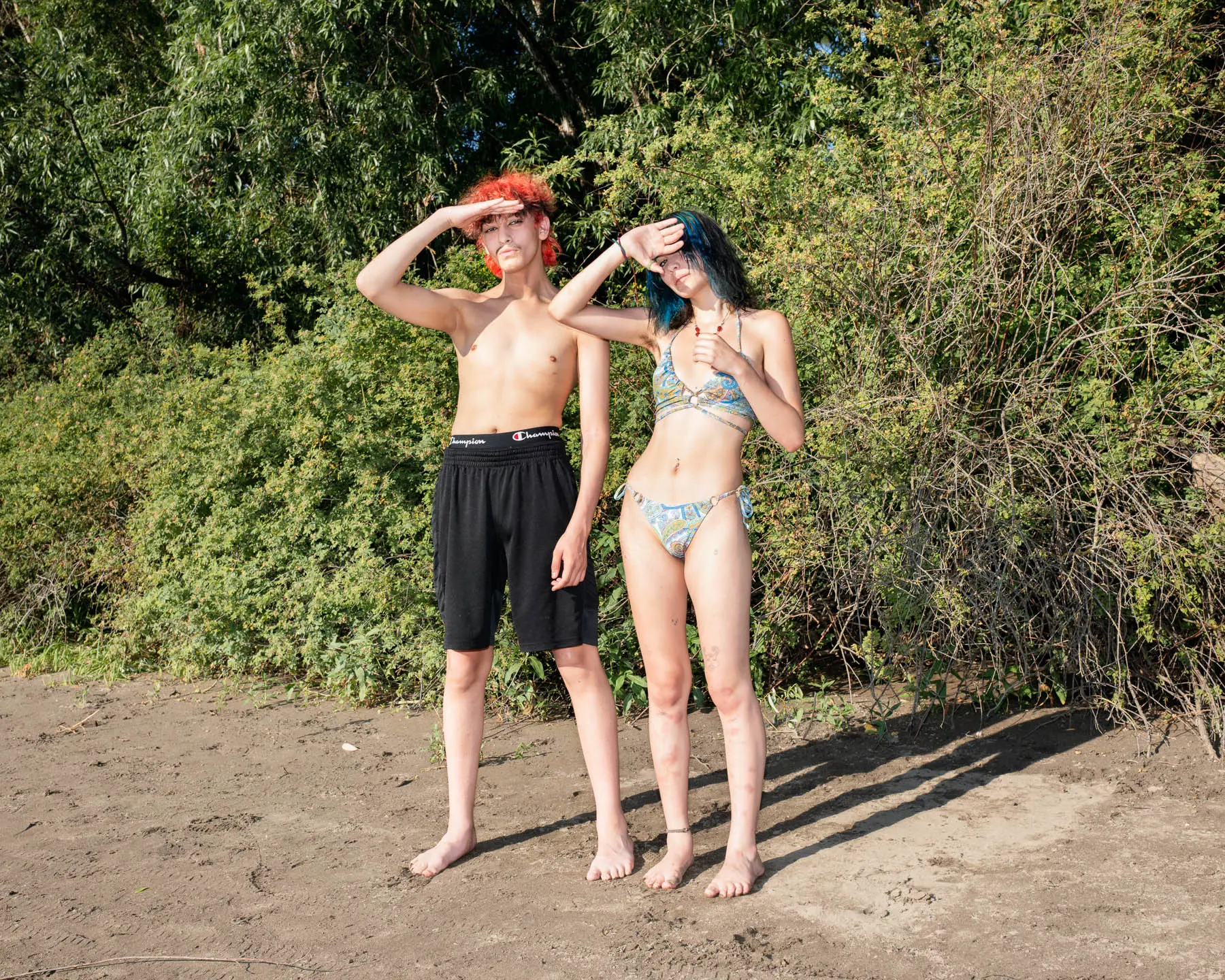 Portland, Ore.
Isaiah Vankova and Sofia Zambrano, both 18, stand on the bank of the Willamette River near Sellwood Riverfront Park on June 27. Record-shattering heat in Portland, where that day it was hotter than Dubai, would lead to canceled summer school programs and shuttered restaurants and other businesses. The next day, calling the heat "too dangerous," the city's parks-and-recreation department closed outdoor pools after lifeguards suffered "heat-related illnesses."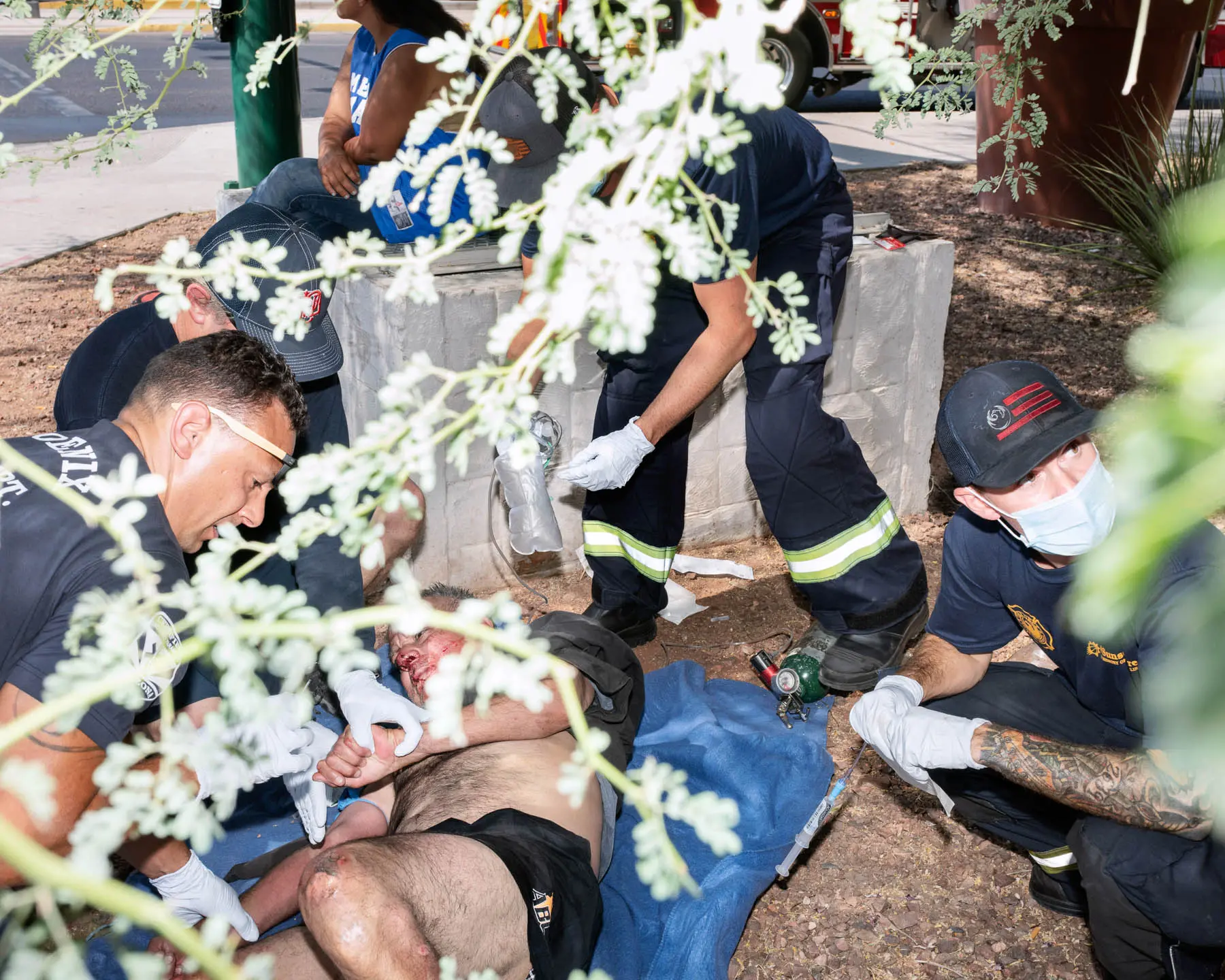 Phoenix, Ariz.
Firefighters from Phoenix Fire Department Station 18 tend to a man who suffered a medical emergency, as well as subsequent burns to his body after falling on the scalding ground, on June 17. The city experienced an "unprecedented" 53 days at 110°F or warmer last year, when the Arizona Burn Center recorded 104 burn injuries related to the heat in June, July and August, marking the highest number since it began keeping track in 2000.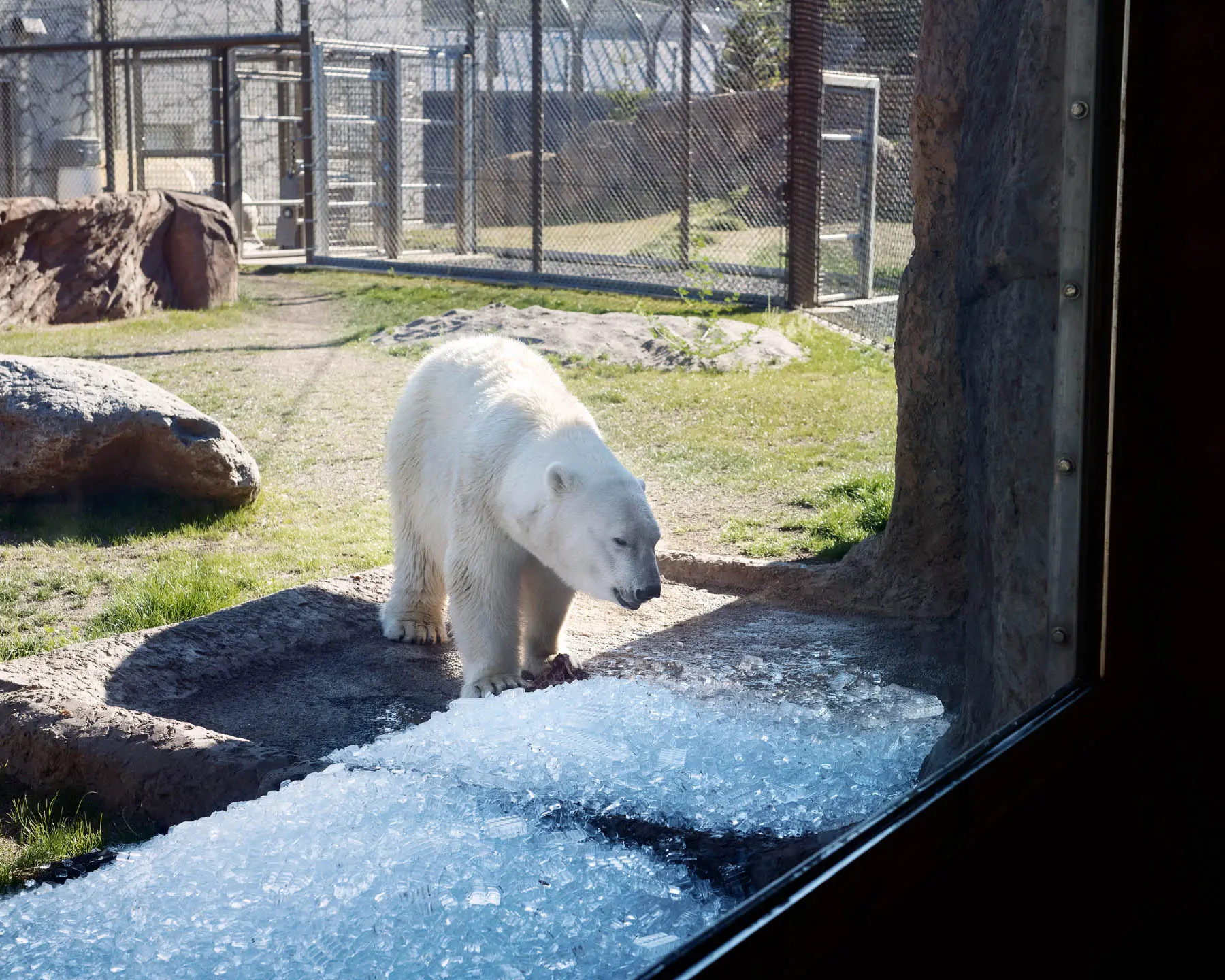 Portland, Ore.
Nora, a polar bear at the Oregon Zoo, during a record heat wave on June 28. The day's high would reach 116°F. A global team of researchers later found it would have been "virtually impossible without human-caused climate change." From 2010 to 2019, the high temperature recorded at Portland International Airport reached triple digits on 11 days, according to data tracked by The Oregonian/OregonLive. Since the beginning of 2020, it has happened on seven days—five of them over the past two months.
Near Pine Valley, Utah
On June 10, days after a rancher who runs approximately 800 head of cattle had moved many of them to higher ground for the summer, as he does annually, a straggler became stuck in a cattle grid. Unable to wrangle it free, the man then shot and removed it with members of his family. A year earlier, this area in Utah's southwest corner was "Abnormally Dry," the lowest classification of the U.S. Drought Monitor. This year, it was the highest: "Exceptional Drought."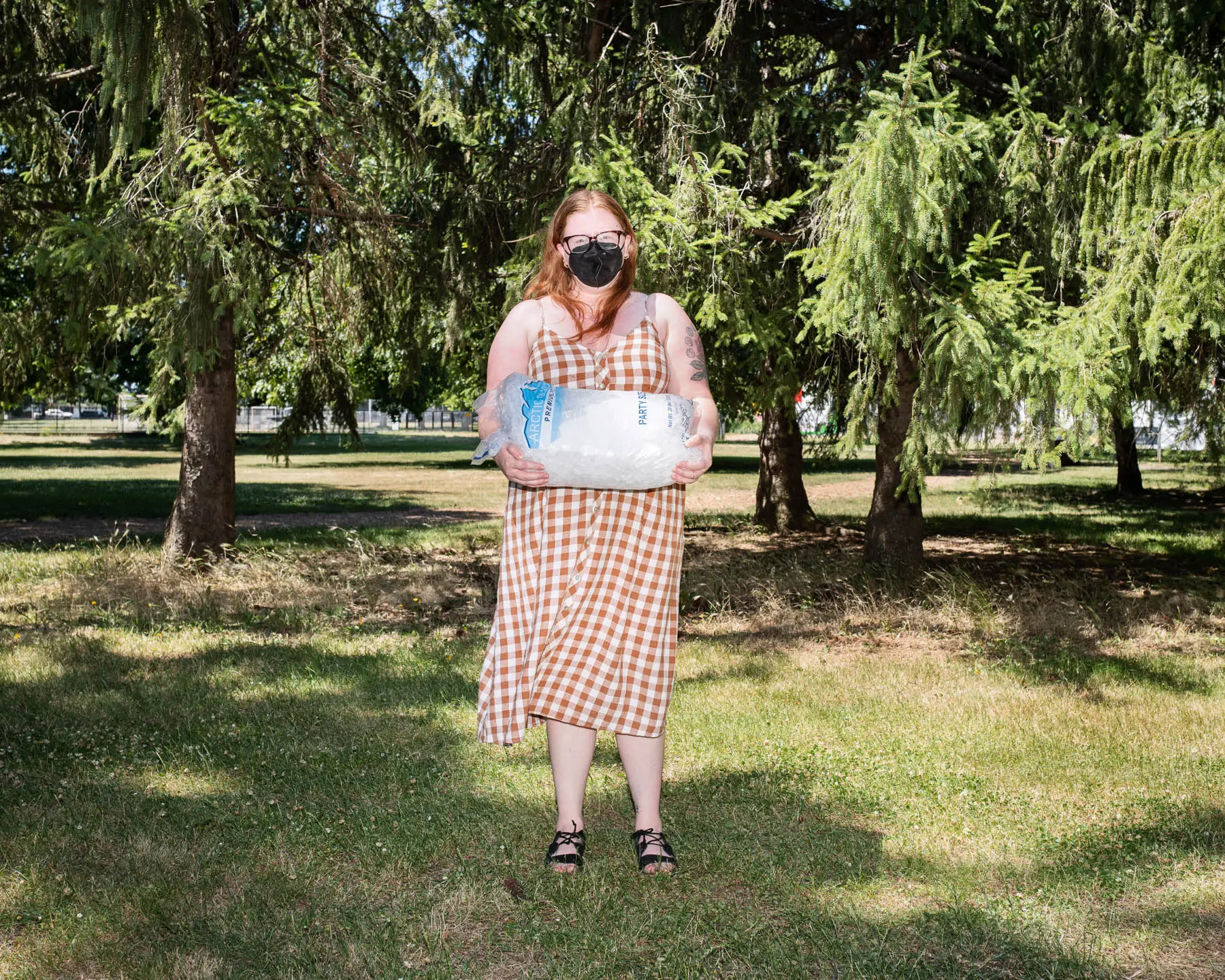 Portland, Ore.
Rachel DeHart donates a bag of ice to a cooling station on June 27. One day after Portland hit 108°F, setting a new all-time high, the record fell again when the temperature reached 112°F.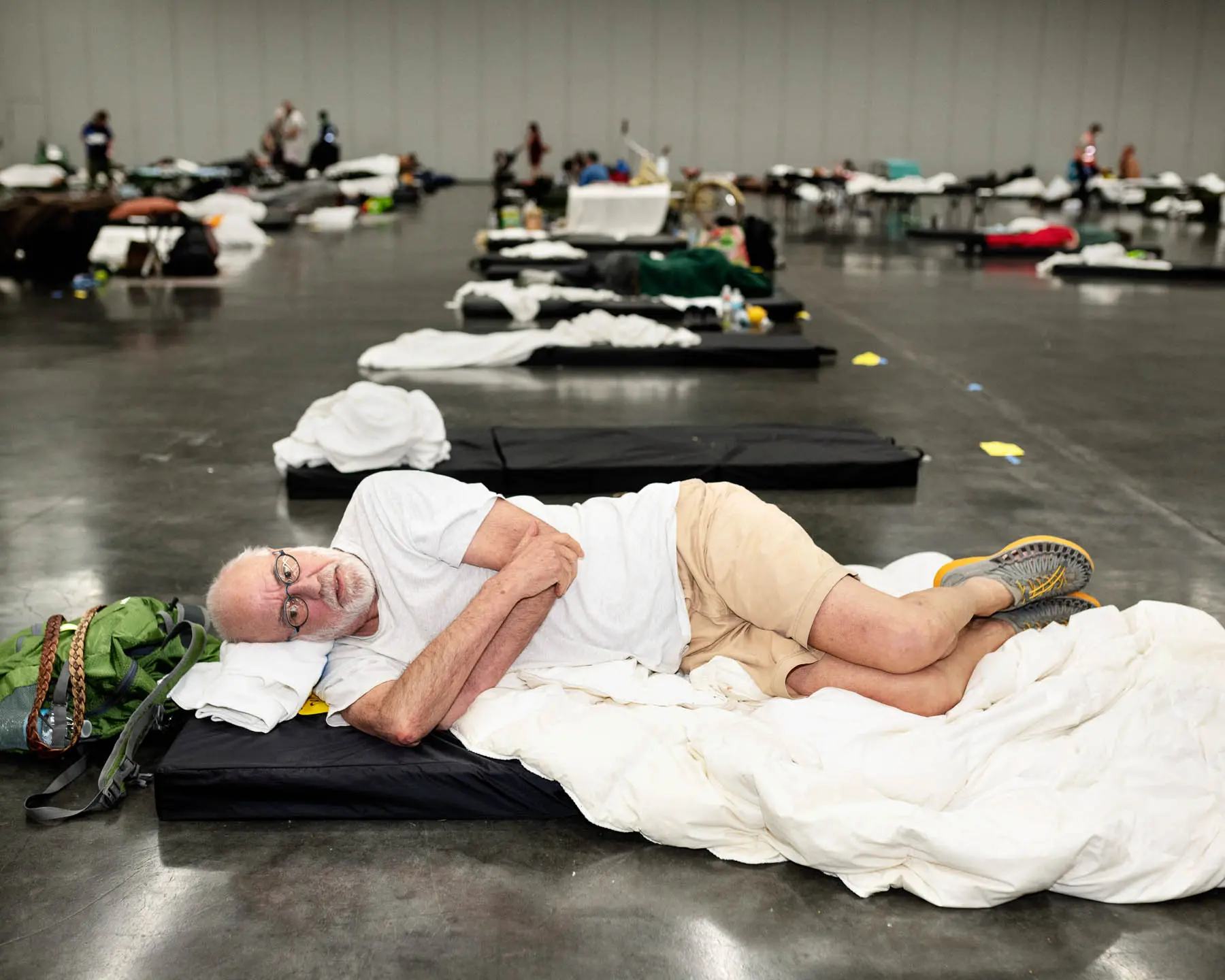 Portland, Ore.
As temperatures soared in late June, Dennis Henry, a 71-year-old with a heart condition that makes breathing more difficult, left his "lovely old apartment house" that lacks air conditioning and hopped on a bus to the Oregon Convention Center, where a 24-hour cooling station was operating. "Yesterday, I thought I could make it through the day and the night, but I looked at the projections for today and the day after, and I decided I better get my tail down here and make sure I get a spot," Henry said on June 27. "They're very nice here ... The food's even good," he adds. "They keep it slightly colder than it needs to be. I go out and warm up every once in a while for a little bit. Which is ridiculous! Isn't it ironic?"
"It feels like God is holding a magnifying glass to your legs"

William Calvin "Slim" Sterling
The U.S. West is not alone in inhabiting dire climate straits. For the first time, the IPCC this year offered a comprehensive analysis of climate change at the regional level. Every region on the planet has already taken a hit from warming in one form or another, according to the report.
In places where people are already facing devastation, the scale of the climate-changed reality is starting to seep in. In the air-conditioned Oregon Convention Center in Portland, Dennis Henry, 71, tells TIME that he would consider moving if the heat waves became a regular occurrence. Henry had taken shelter in the cavernous meeting hall—a temporary fix, he acknowledges. "If the situation became extreme, where this was semi-normal ... no, I wouldn't be here," he says. But at the same time, "I can't plan where to move, because who knows what they're going to be like."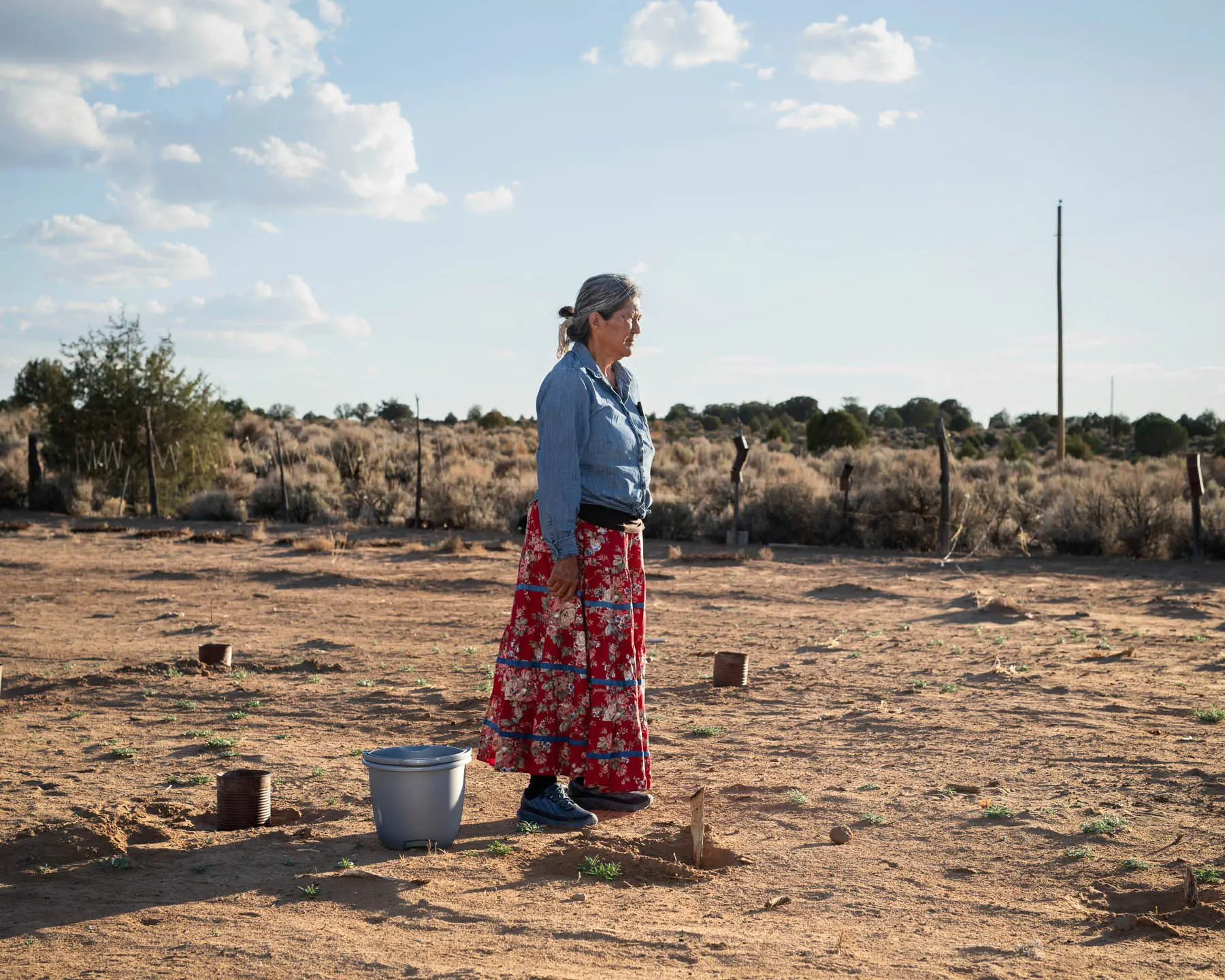 Hard Rock Chapter, Ariz.
Lorraine Herder, 68, stands on her recently planted cornfield in the Black Mesa region of Navajo Nation on June 24. When she was growing up, the family brought its livestock to nearby springs for water. With those sources long gone after decades of local coal operations and rising temperatures, "this area is all dried up," she says. Each day, her family leaves home to fill a 275-gal. vat—at 1¢ per gal. Last year they spent $5,000 on supplemental feed for the animals.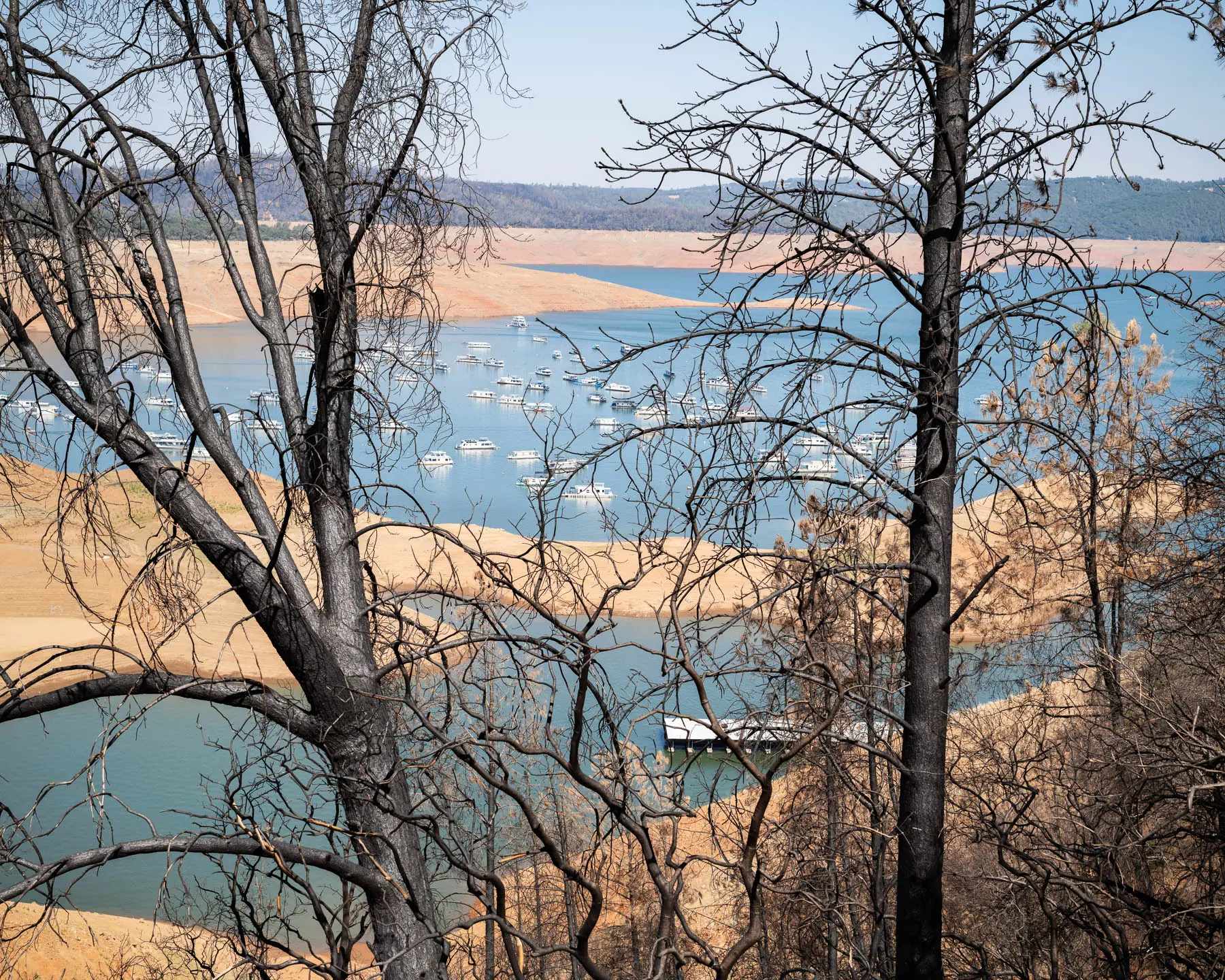 Lake Oroville, Calif.
A view of the lake through trees burned during a previous fire season on July 2, when the elevation was recorded at about 680 ft. above sea level. California's water resources department stated "extremely dry" soils and "climate change-induced early warm temperatures" led to a dramatic reduction in runoff this past spring. In early August, in a move the state said it anticipated, the hydroelectric plant that is fed by the reservoir was taken offline for the first time after water levels dropped below 645 ft., the previous low set in 1977. By late October, the state projects, the elevation could sink to as low as 620 ft.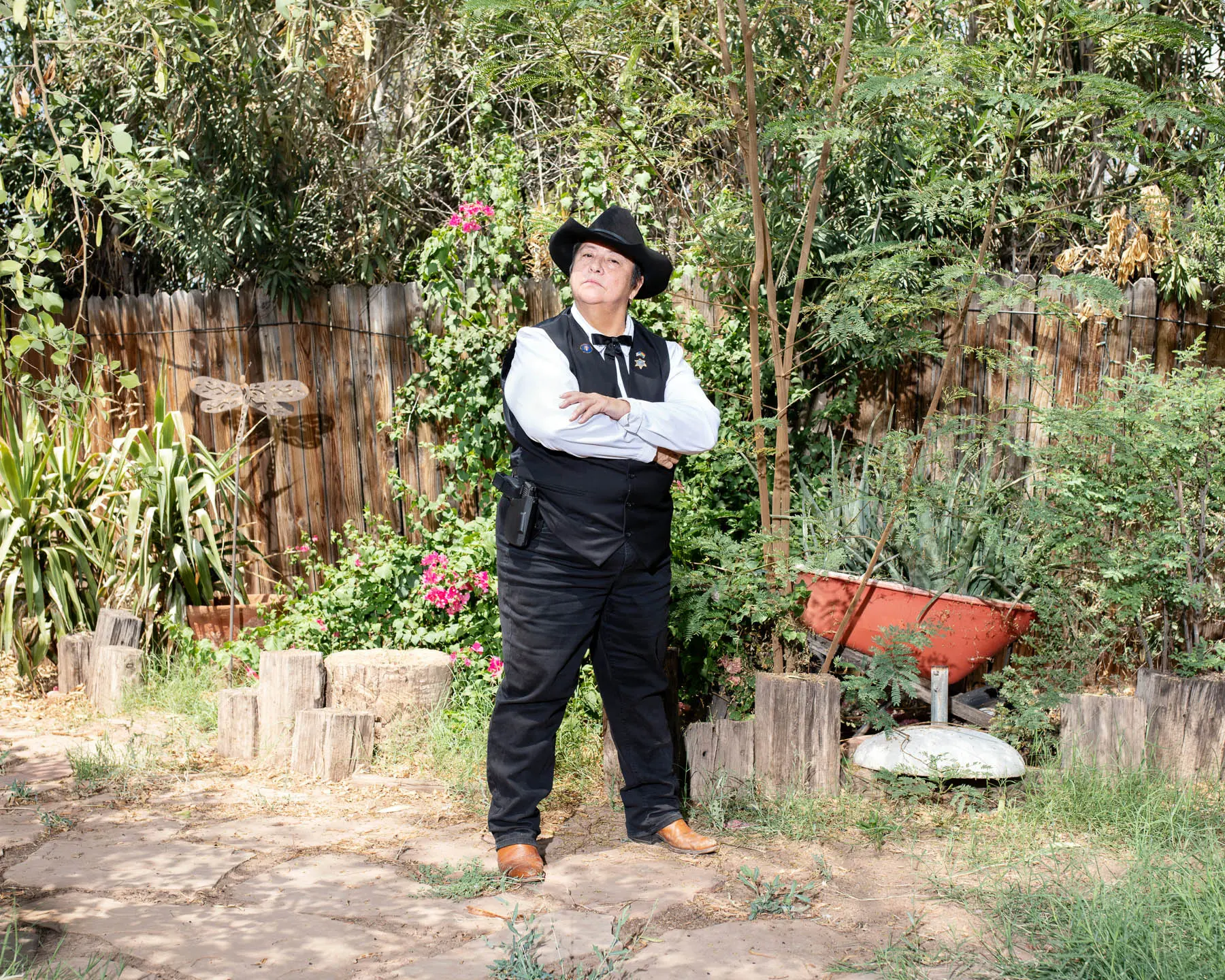 Phoenix, Ariz.
Constable Darlene Martinez has lived in Phoenix long enough—since the mid 1980s—"to see the climate change." Martinez's experience back then, as a carpenter who suffered from heatstroke during her first year in Arizona, has informed her approach today when carrying out orders of the court: evictions, warrants, orders of protection and more. "Evicting people in the heat," she says, "is the hardest thing to do." But Martinez, who hauls around cases of water in her vehicle, says she makes sure they have a means of transportation and another place to go. In the summer, she starts evictions at around 7 a.m., hours earlier than she did a decade ago. By the end of her day, the clothes under her bulletproof vest are "completely soaked." Her signature black hat provides shade, but it hasn't escaped unharmed. "The salt of my sweat wore out the rim," she says. "After a year, I had to have it replaced."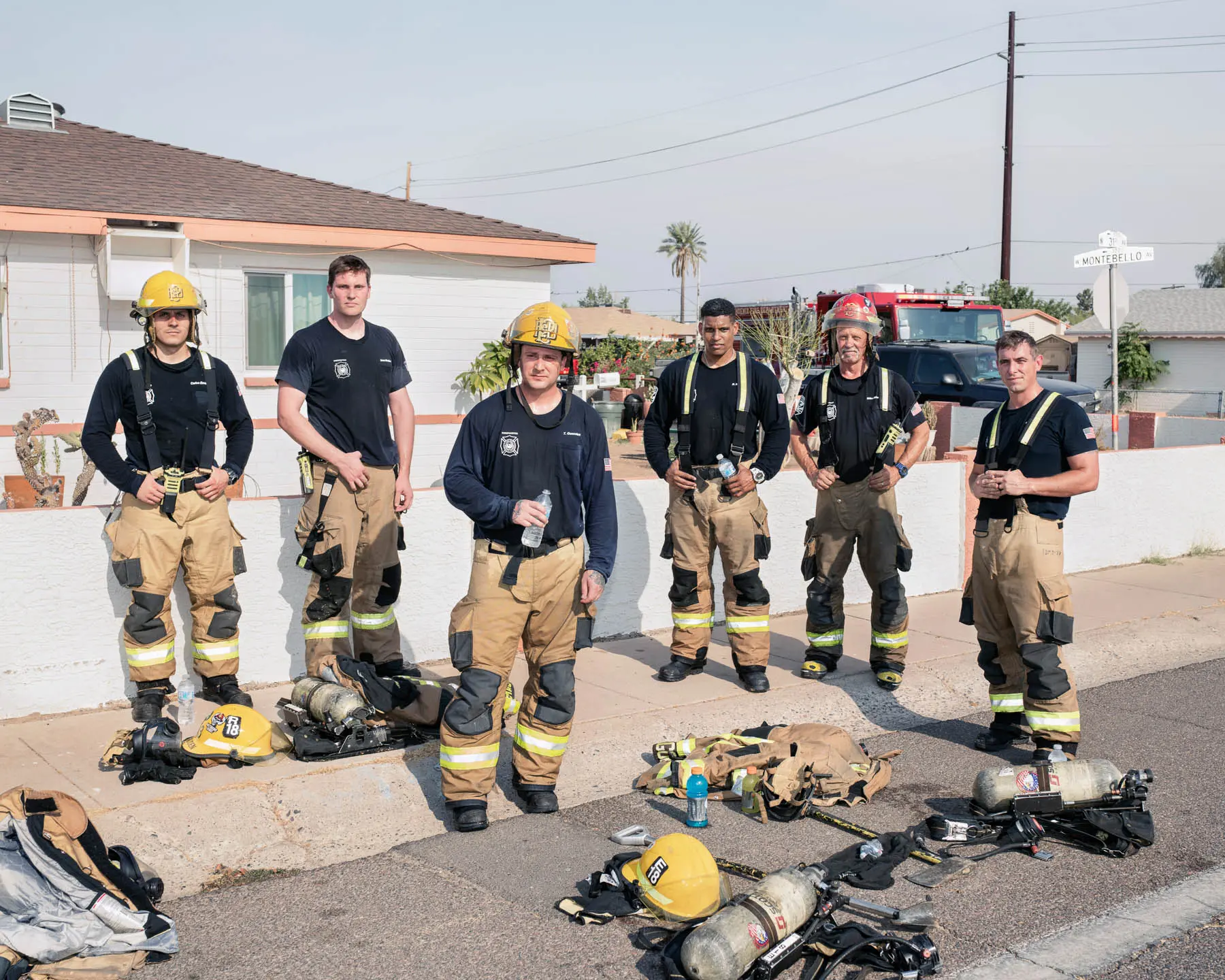 Phoenix, Ariz.
Firefighters from Phoenix Fire Department Station 18 stand for a portrait after a house fire on June 16, a day when the high was 115°F. "The heat definitely intensifies everything we do this time of year," says Capt. Mike Adelman, second from right, who has spent 27 years with the department. The firefighters often perform activities similar to what they will encounter on site as a means of confronting the summer's highest temperatures. They also work to control their breathing and pay strict attention to their situational awareness, so as not to expend energy they'll need when calls come in. "What it comes down to is staying trained up, staying acclimated to the heat and understanding the environment that we live in and that we work in, and really just being able to overcome those obstacles," says Richie Robnett, third from right. "A big part of this job is, you've got to get comfortable being uncomfortable."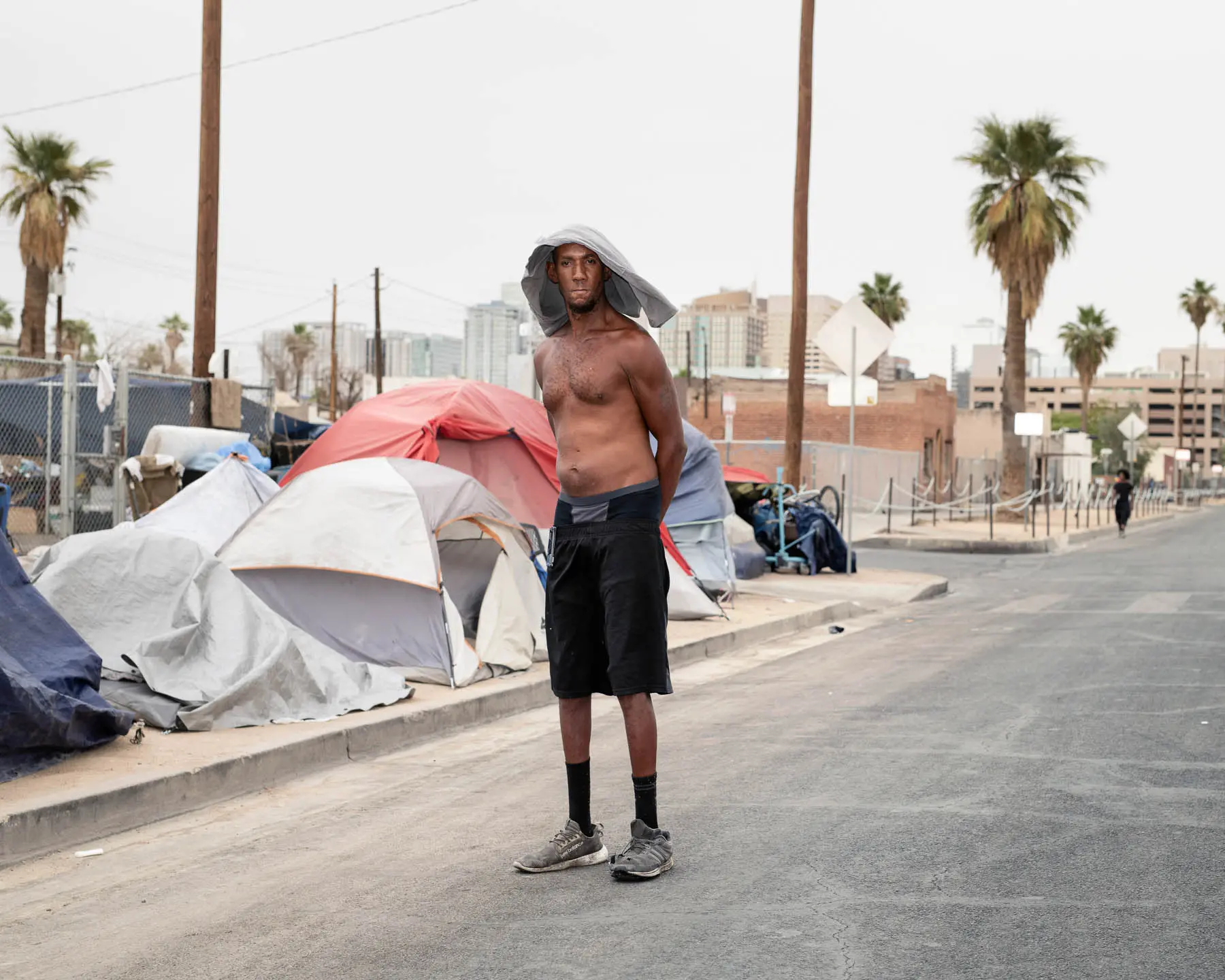 Phoenix, Ariz.
William Calvin "Slim" Sterling stands near his tent on June 14. "It feels like God is holding a magnifying glass to your legs," said the 39-year-old, who suffered from heatstroke months ago, during what became Phoenix's hottest June on record. "I can feel the sun cooking my shoulder blades." For relief, he covers his head with a wet shirt, uses a battery-powered fan and stays as hydrated as possible. "It's a war zone," he says. At a nearby shelter with shade, "it's like peace."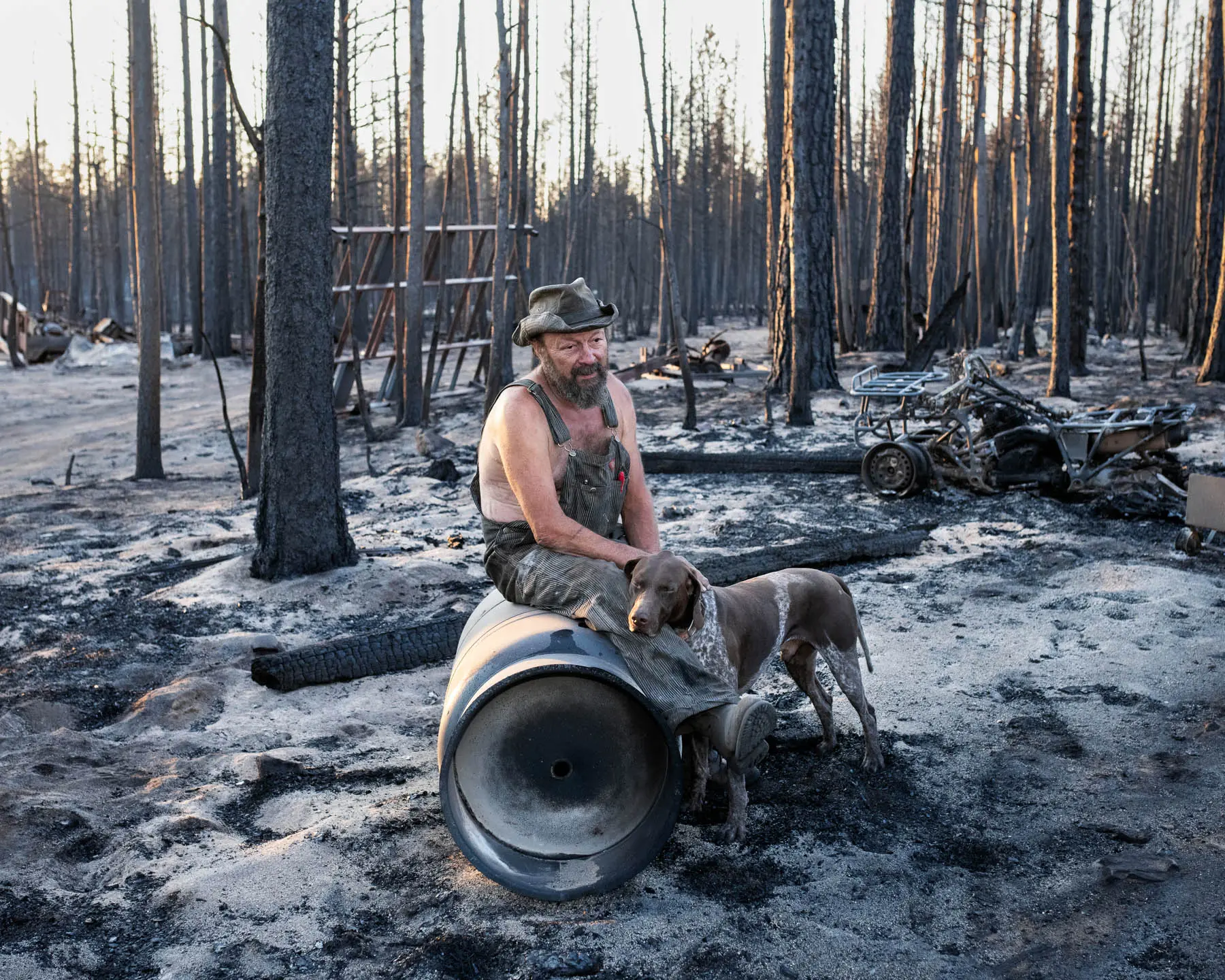 Sycan Estates, Ore.
Jeff Whited sits among his destroyed belongings on July 22. The Bootleg Fire arrived "just like a freight train," says Whited. "It looks like a freaking bomb went off." The 63-year-old had been helping clean up the wreckage of his brother's burned-down house when flames reached his own. Guitars and amplifiers, snowmobiles and trucks, engine parts, chain saws, a huge cache of hand tools and much more—all gone, Whited says. "This sure was a beautiful place," he says. "It doesn't leave a beautiful memory with me, not this picture of it." At the grave of his partner on his 12-acre property, wind chimes used to hang in the trees. Whited recalls asking why she wanted so many of them, to which she replied, "When I'm gone, baby, you'll know I'm still there when you hear 'em." After the fire, he says, "I can't hear one. They're gone. Every wind chime."
"It's scary. It's sad. We're in trouble."

Constable Darlene Martinez
It's too soon, though, to completely throw in the towel. We may have almost certainly locked in some amount of global warming, but we still have choices to make that can determine how far past the red line we go. And every fraction of a degree matters.
Policymakers from around the globe are currently gearing up for global climate talks meant to put the world on track to keep temperatures from rising more than 1.5°C by the end of the century. The IPCC report "will give ammunition to those of us who are saying this is a crisis," says Nat Keohane, president of the Center for Climate and Energy Solutions. But so too should the stories of those on the ground who already have lost homes, livelihoods and loved ones.
Palm Springs, Calif.
On June 18, Jill Langham and her friend Geoffrey-Martin Cyr planned to have drinks together in the evening. The desert city was experiencing a heat wave: for 43 consecutive days in June and July, temperatures hit 100°F or higher. The soles burned off Langham's shoes that day, on which the high was 119°F. Cyr planned to lie out near a pool before meeting up. At close to 5 p.m., he texted to say he was "winded" but on his way. He never arrived. Langham didn't think much of his absence—their plans were casual, and they were due to have brunch that weekend anyway. She later learned Cyr, 55, had collapsed and was transported to a hospital, where he died the next day from complications of heatstroke. "I really wish I had sent him a photo of those [shoes] and said, 'Hey, be careful out there,'" she says. "Would he have listened? He was a sun worshipper."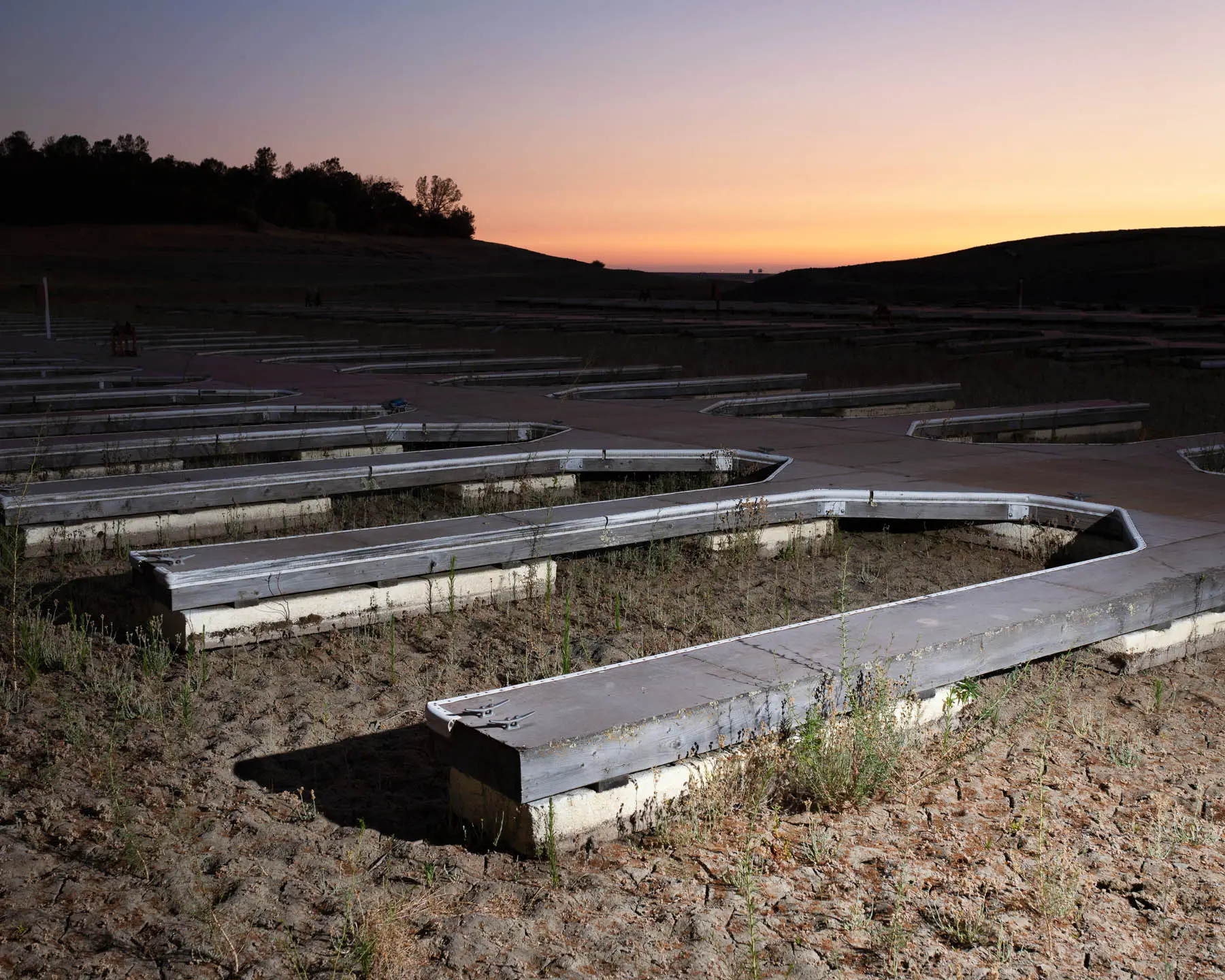 El Dorado Hills, Calif.
Boat docks rest on the floor of Folsom Lake, a reservoir on the American River in the Sierra Nevada foothills about 25 miles east of Sacramento. On June 30, as California ended one of its driest rain seasons on record, the reservoir registered just 30% of its capacity. "This drought is real. Climate change is real," Governor Gavin Newsom said three weeks later, standing bone dry in what in typical years would have been waist-deep water. "If you don't believe in science, please, you've got to believe your own eyes." By Aug. 14, the water had dropped 6% more.
Pixley, Calif.
Guillermo Gomez, a U.S. resident born in Mexico, stands for a portrait in a field on Jer-Z-Boyz Ranch, where he makes his living as an irrigation worker, on July 4. Gomez has worked in this area for the past 24 years. "We didn't plant 220 acres because there wasn't enough water," Gomez says. "This is the worst drought I've seen."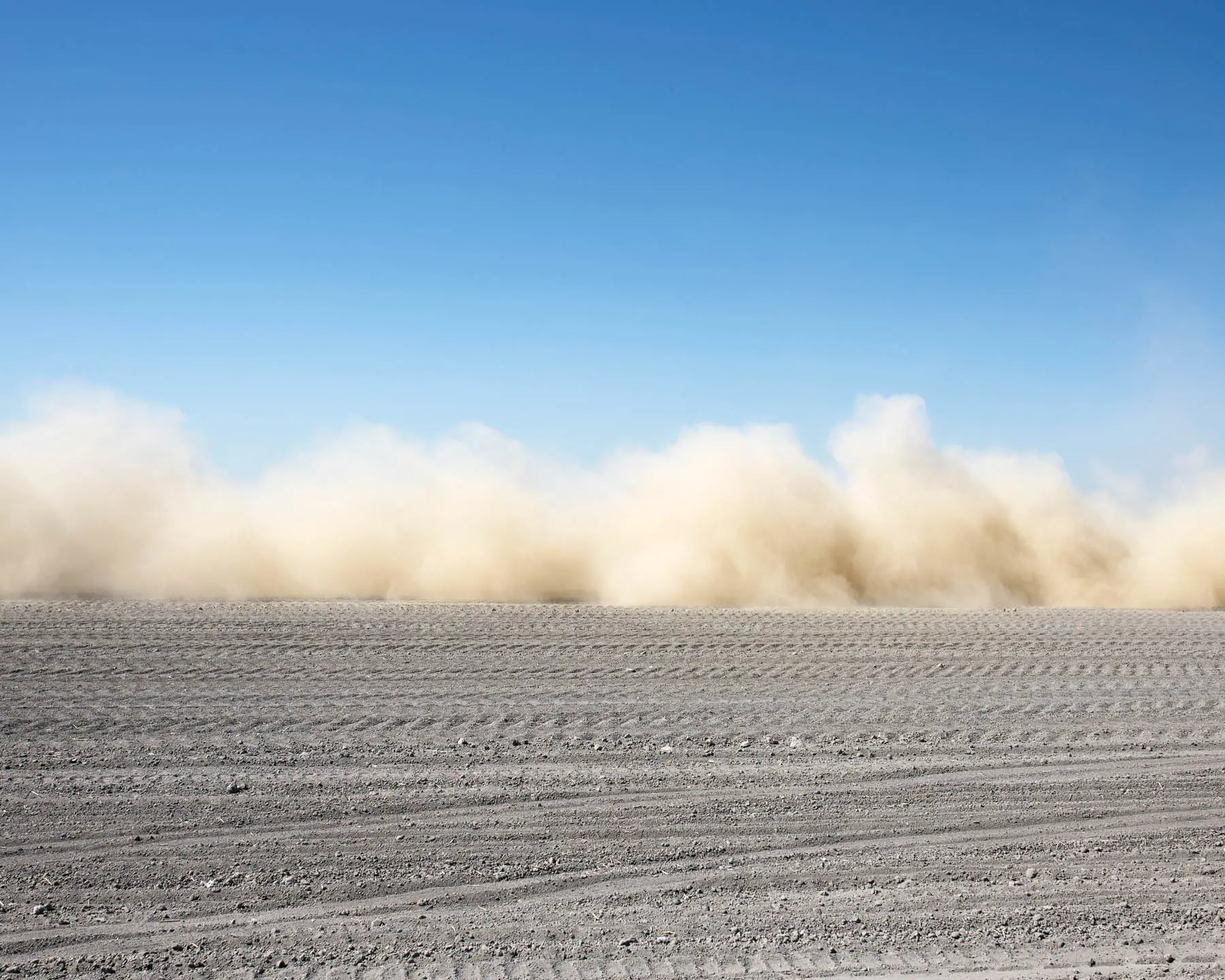 Near Corcoran, Calif.
Billowing dust rises behind a truck driving over a barren field on July 5. Water shortages prevented the land from being planted this season, as the drought choked off water to farms across the state. Some land in the surrounding area is reported to have sunk more than 11 ft. due to decades of groundwater extraction. Newsom has called on Californians to voluntarily reduce their water use by 15%.
White Salmon, Wash.
Shane Brown, 35, visits the grave of his mother, Jollene Brown, at Klickitat County Cemetery District No. 1 on July 24. As a heat dome settled over the Pacific Northwest in late June, Jollene's air conditioner wasn't working properly, so he bought her a "swamp cooler"—an affordable device that cools the air through the evaporation of water. On the night of June 27, she told Shane, the air was so hot in her apartment that the cooler needed to be constantly refilled because the water evaporated so quickly. Shane said he would get her a new AC. The next morning, she wasn't picking up his calls. After arriving at her home, Shane found her "just sitting in her recliner with her head to the side, like she had just fallen asleep," he says. "Jolly," 67, was full of opinions but not judgmental, loved Dolly Parton and Patsy Cline and puffins, and was among at least 60 people in Portland (and hundreds in the region) who died from hyperthermia during the heatwave. Shane called 911 and ran to a neighbor until police arrived. Later, while waiting for the medical examiner, he sat in the room with his mother "just because I wanted to be near her," he says. "I didn't want to leave her alone in the hot room."