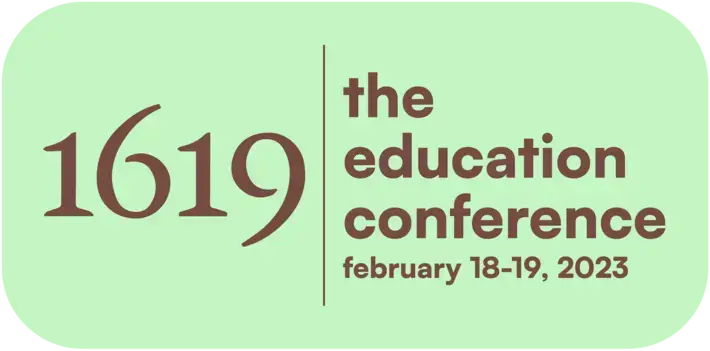 The Pulitzer Center's 1619 Materials Collection and 1619 Education Programs and Initiatives have inspired hundreds of educators across the U.S. to engage their students with the themes of The 1619 Project, and to connect with a community of educators committed to helping students better understand the role of Black people in shaping American society and the legacies of slavery that still exist today.
Taking place on February 18 and 19, the second 1619 Education Conference will offer participants the opportunity to learn from The 1619 Project Education Network members about the units they created and implemented as part of the program, the strategies and resources they found most helpful, and their key takeaways from their experience connecting the project to their students. The conference will also allow attendees to view the creative ways our Afterschool Program Partners explored The 1619 Project with students in outside-of-school programs and participate in learning workshops with project resources.
There are educators #Teaching1619 in all education contexts. If you're an outside-of-school educator, librarian, or community leader, you may find resources to spark students' creativity, teamwork, critical thinking, and media literacy skills in these activities for afterschool educators, which give various entry points into exploring multimedia components and text excerpts from The 1619 Project.
The conference will include an exploration of project resources and a Q&A for educators interested in joining the second cohort of the 1619 Education Network. Participants will also hear from contributors to The 1619 Project and professors who have connected 1619 books to schools of education.
The 1619 Education Conference is open to all, but we especially encourage educators interested in applying to the 2023 1619 Education Network cohort to attend. The Pulitzer Center team will follow up with more details on the day-by-day schedule as we get closer to the event.
---
Schedule
We will be releasing the schedule and speakers very soon. Stay tuned!
Register for this year's conference
---
"There's a presence in my classroom that has not been present before. And that is the voice, the acknowledgment, of African-Americans during this time period."

Noncy Fields, elementary educator