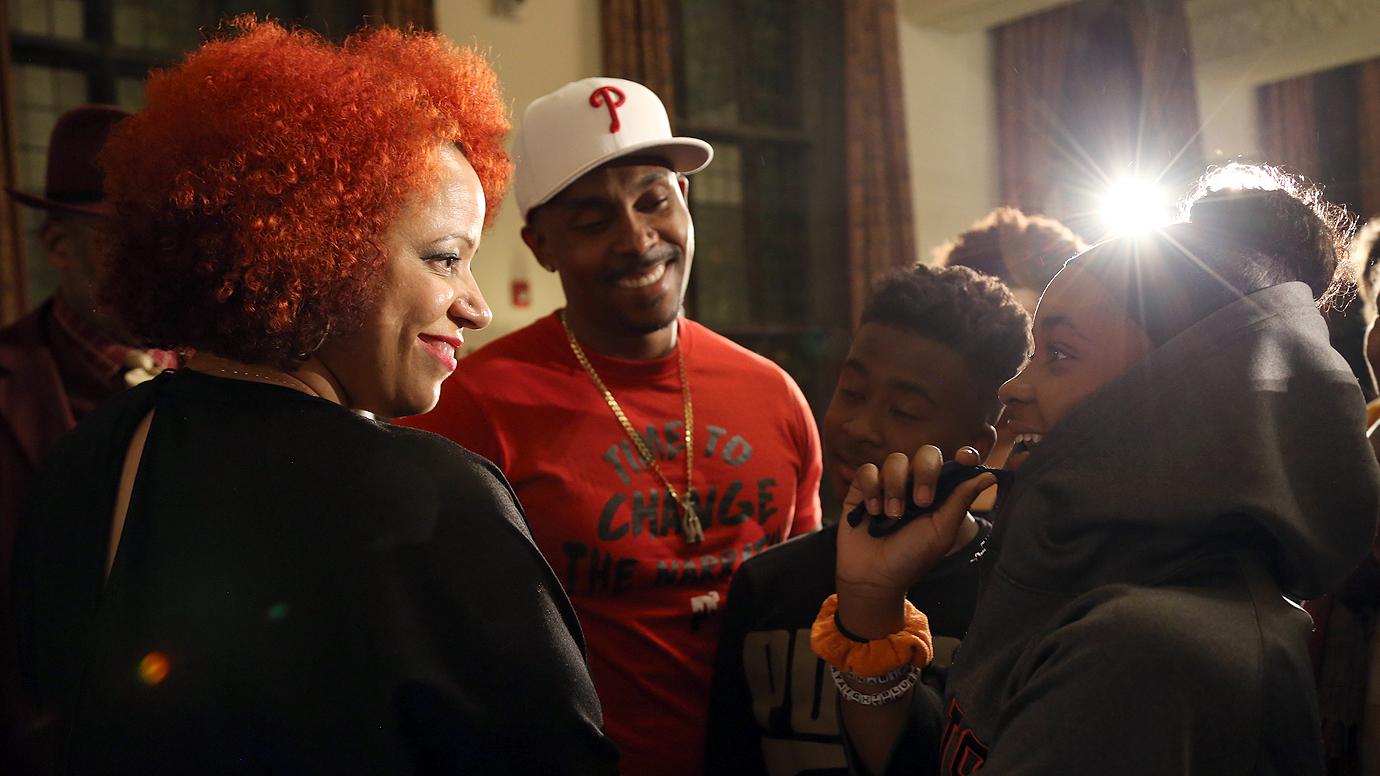 Pulitzer Center staff ventured to high schools and colleges in Illinois and North Carolina last week to participate in panel discussions and education events surrounding the historic 1619 Project. The Pulitzer Center is a proud education partner for this special issue of The New York Times Magazine that explores the bonds between modern American life and the brutal legacy of slavery.
Along with creating and circulating original education curricula centered around the project, the Pulitzer Center has distributed bulk copies of the magazine to over 500 schools across the country—including every high school in Chicago, Buffalo, NY, Washington, DC, and Winston-Salem. The Center has also helped organize engagements with its network of schools and university partners for Nikole Hannah-Jones, lead writer on the 1619 Project. 
Pulitzer Center founder and Executive Director Jon Sawyer spoke about the scope of the project on October 8, 2019, in his introduction of Hannah-Jones at the School of the Art Institute of Chicago's (SAIC) "The Struggle for Justice" event: 
"The subject of the 1619 Project is in fact American history itself, the truths in our story that we have distorted, buried, or willfully ignored," Sawyer said. "It is astonishing that so much of what the 1619 Project has to say about the role of slavery in American history comes as a revelation — but a revelation it clearly is, not least in holding up to unsparing light the myriad ways in which slavery, and the experiences of enslaved people, inform the institutions, laws, and culture of America today.
"One of those consequences of slavery is a system of mass incarceration unique to our country, a system that would be unimaginable absent the centuries of abuse, racism, privilege, and denial that brought it about. Our gathering today is a chance to reflect on that history, and on this present moment—to hear from Nikole about 1619 and then from our panel of activists, artists, and journalists about how the history she reveals contributes to the evils of mass incarceration today. It is way past time to be holding such conversations."
SAIC is one of the Pulitzer Center's newest Campus Consortium members, a network of over three dozen universities, community colleges, and historically black colleges and universities who work with the Center to bring the issues our journalists cover on to their campuses. Sawyer thanked SAIC for their impactful work and recent partnership, while also extending thanks to the Art for Justicce Fund for funding such powerful initiatives:
"We've been so inspired by the work of SAIC in so many of the Chicago communities we seek to serve — from North Lawndale to the Illinois Youth Center to Stateville Prison to the wonderful community of students here at SAIC itself," Sawyer said. "A special thanks to our board member Bill Bush, who has also served on the board of SAIC and whose support has made possible the great collaborations we've begun. More thanks to our fellow grantees of the Art for Justice Fund, the amazing initiative begun by Agnes Gund that has done so much to tackle the fundamental injustices in our system of mass incarceration. We're so honored that justice reform advocates Deb LaBelle, Eric Alexander, and Norris Henderson have been with us this week, sharing their urgently important work with our school and university partners here in Chicago."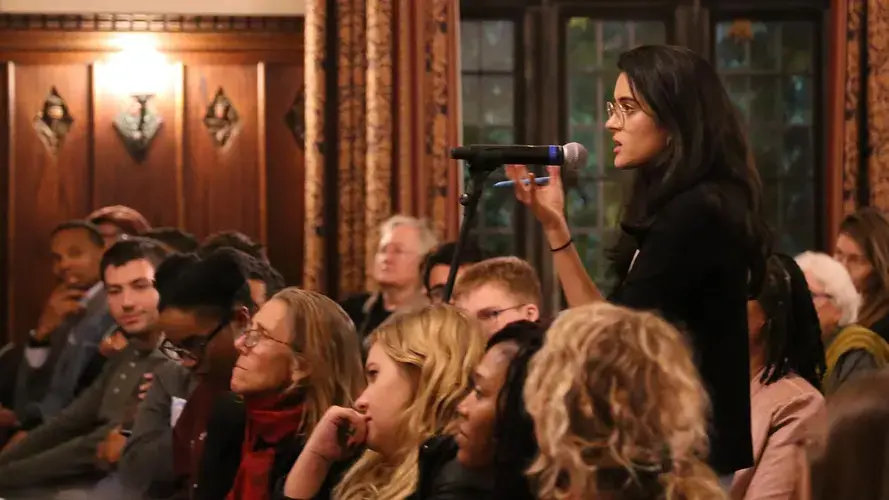 Nikole Hannah-Jones  began the week speaking at the University of Chicago's Institute of Politics on Monday, October 7. On Tuesday she spoke to a full auditorium of students and teachers at the Whitney Young Magnet School in Chicago (Michelle Obama's alma mater). She was joined on stage by Jake Silverstein, editor in chief of The New York Times Magazine, Janice Jackson, chief executive officer of the Chicago Public Schools, and several students presenting poetry and reflections from their reading of the 1619 magazine.Rochelle Borden, a Whitney Young student, shared a poem she called "Our History:"
"I just want a part of the American Dream
Welcomed into the land of the free WE created
Freed from our 400-year slavery
When do I get to enjoy the Nation we made"
 Jackson said she was thrilled to see the 1619 Project embraced by students and teachers throughout the city, especially at a moment when the school district is making revisions to its American history curriculum. "What excites me about the project is how well done it is," Jackson said. "The contemporary lens is so valuable."
Hannah-Jones continued on to North Carolina for talks at R.J. Reynolds High School as reported by the Winston-Salem Journal and Winston-Salem State University as reported by Triad City Beat on Thursday, October 10, 2019. 
Sawyer grew up in Winston-Salem and attended R.J Reynolds High School, which has partnered with the Pulitzer Center for over three years as part of the Center's NewsArts initiative. This initative facilitates students' exploration of global issues through engagement with news and the arts. Students from English, Spanish, visual art, and journalism classes had already spent weeks exploring The 1619 Project, and several teachers said that they planned to continue with the project throughout the fall. Many teachers entered the assembly with bookmarked copies of the magazine. Others entered with copies of essays and poetry composed by students who had explored the essay written by Hannah-Jones for the project. 
Pulitzer Center's founder and Executive Director Jon Sawyer discusses the development of The 1619 Project with Nikole Hannah-Jones at R.J. Reynolds High School in Winston-Salem, NC. Image by Fareed Mostoufi. United States, 2019.
Pulitzer Center's founder and Executive Director Jon Sawyer, Pulitzer Center's Senior Education Manager Fareed Mostoufi, New York Times journalist Nikole Hannah-Jones, and Reynolds High School Arts Magnet Director Pamela Henderson-Kirkland pose for a photo after the discussion. Image by Kem Knapp Sawyer. United States, 2019.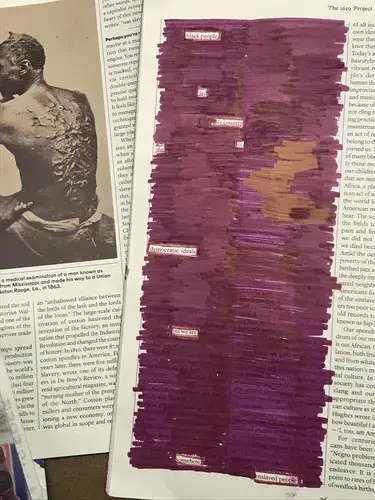 "It was very empowering," said student Narissa Crawford about her experience exploring the essay that Hannah-Jones contributed to the project. "It was very gruesome, but it's our history. I am hoping that it changed others as it changed me."
"How many of you feel empowered by your curriculum?" Hannah-Jones asked the 400 students gathered in the auditorium as the discussion launched into Q&A. She went on to describe how she was also in high school when she first learned about the year 1619 in a Black Studies course. She described how the course presented one of the first times she felt represented by the content she was taught in schools, and how the course also opened her eyes to the importance of researching and telling the stories of underrepresented communities.
Students asked Hannah-Jones about how she has managed negative responses to the project, how she knew she wanted to be a writer, and what she wanted to write about next. When asked how she thought the students in the audience could act to combat some of the issues described in The 1619 Project, Hannah-Jones responded by reminding students that the civil rights movement was led by many who were their age.
"I think you have the answers," she said.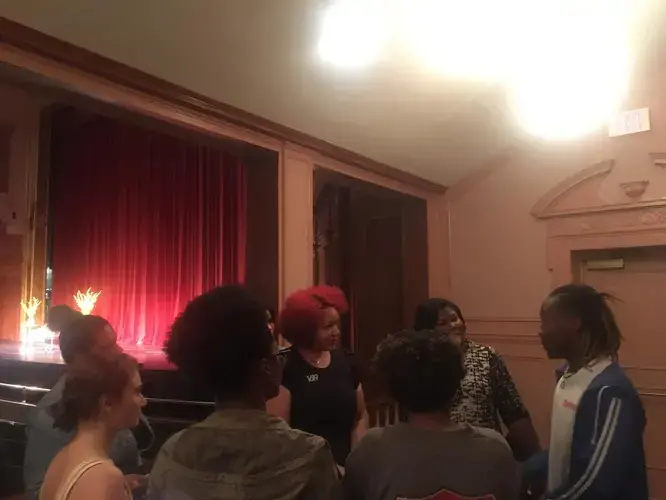 Also in the audience for the discussion were over a dozen teachers from throughout Winston-Salem/Forsyth County (WSFC), who then attended a professional development workshop led by Pulitzer Center's Senior Education Manager Fareed Mostoufi and WSFC's Director of Social Studies Rebecca McKnight. McKnight introduced an activity that used images from the project to start conversations about theme. Mostoufi then described how the Center's online curricula and facilitated a guided exploration of the magazine. Teachers broke into small groups to discuss how they would incorporate essays from the project into their curricula. Staff from Reynolds High School then presented how students have used blackout poetry to begin engaging with the essay that Hannah-Jones contributed to the project.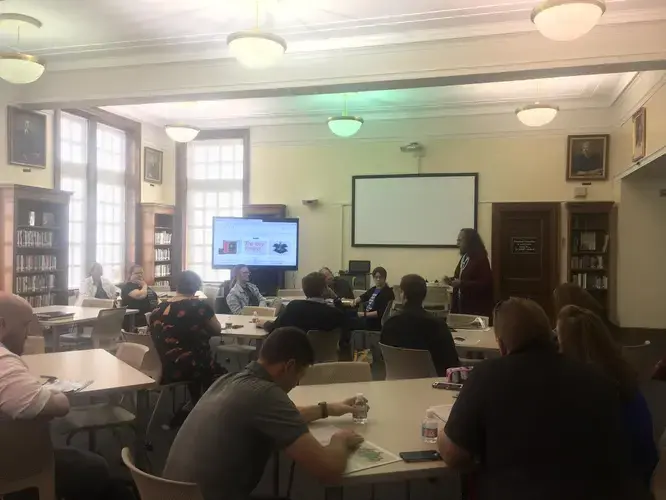 Eric Alexander, of the Campaign for Fair Sentencing of Youth, a public education and advocacy group, and Deborah LaBelle, a Michigan attorney who focuses on social justice, both grantees of the Art for Justice Fund, joined Pulitzer Center education staff for visits with students in Chicago. Norris Henderson of Voice of the Experienced, another Art for Justice Fund grantee, brought his inspiring story of overcoming decades as a wrongly convicted inmate at Louisians's Angola State Prison to a class at Illinois' Stateville Prison organized by SAIC.
At the University of Chicago's Institute of Politics, students from the Civic Engagement program met Alexander and LaBelle for a lunch discussion about youth incarceration and justice reform. Alexander shared his own experiences in prison where he served 10 years of a 25-year sentence, two of them in solitary confinement. Alexander was charged with  robbery and first-degree murder. He pled guilty so as to receive two 25-year sentences (to be served concurrently) with the chance of parole. He served 10 years and was released in 2004. LaBelle touched on several issues related to justice—including the importance of language. She says those under 18 should be referred to as children and not as juvenile offenders or inmates. LaBelle is the lead attorney in a class action suit on behalf of more than 1,000 youth who have been placed in adult prisons.
Moreover, Alexander and LaBelle spoke at Truman College's program, "Voices on Justice: A Conversation on Incarceration and Youth Sentencing." There, students interested in criminal justice learned about the individuals' commitment to reform and had the opportunity to ask questions about their work.
In collaboration with the Pulitzer Center, Brian Frank and Isadora Kosofsky led a workshop at the Illinois Youth Center (IYC) in partnership with Jason Boulware and the SAIC. The documentary photographers shared their long-term photo projects, discussing how to use images to tell under-reported stories in a humanizing way and breaking down the techniques they employ to do so. Frank showed his work on the juvenile justice system and the challenges of reentry, while Kosofsky took participants through three years in the life of a young woman reckoning with Complex PTSD. After these presentations and ensuing discussions, the young men at the IYC experimented with professional camera and lighting equipment to take portraits and detail shots in their unit, practicing photography as a self-expressive art and a professional skill. The workshop concluded with a feedback session in which each participant received critique and celebration from the photographers and their peers.
Isadora Kosofsky talks with photography students after her presentation at Kenwood Academy. Image by Hannah Berk. United States, 2019.
Isadora Kosofsky, Orr Academy teacher Tracy Johnson, and Brian Frank after a day of presentations. Image by Hannah Berk. United States, 2019.
Brian Frank presents his work on incarcerated firefighters and the juvenile justice system at Legal Prep Charter Academy. Image by Hannah Berk. United States, 2019.



Frank and Kosofsky visited an additional five high schools and one community college across the next two days, speaking with classes ranging from Constitutional Law to Art and Digital Media. Students had the chance to ask questions about the journalists' subjects—"How does law enforcement decide who gets a 'gang enhancement' charge?" and "What should you do when someone you know has PTSD?"—as well as questions about photography and careers in journalism.
The Chicago part of the tour also included a reception and tour of "Envisioning Justice," the exhibit on artistic responses to Chicago's experience with mass incarceration that was organized by Illinois Humanities, another Art for Justice Fund grantee.
The Pulitzer Center's work on 1619, incarceration and NewsArts will continue through the fall and beyond.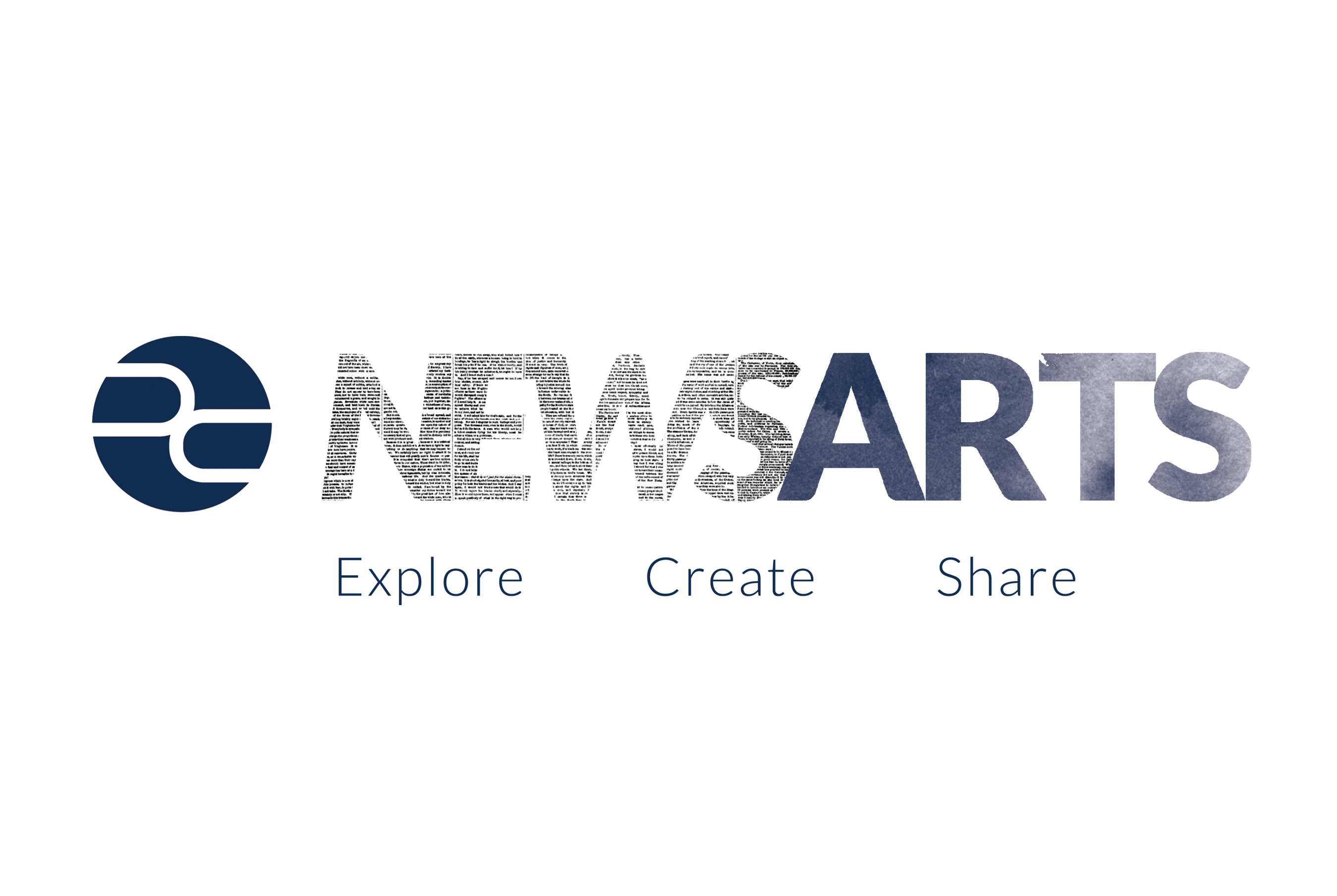 NewsArts: a Pulitzer Center initiative that explores the intersections between journalism and art...