Pulitzer Center Update September 11, 2023
Pulitzer Center Announces the 2023-2024 Cohort of AI Accountability Fellows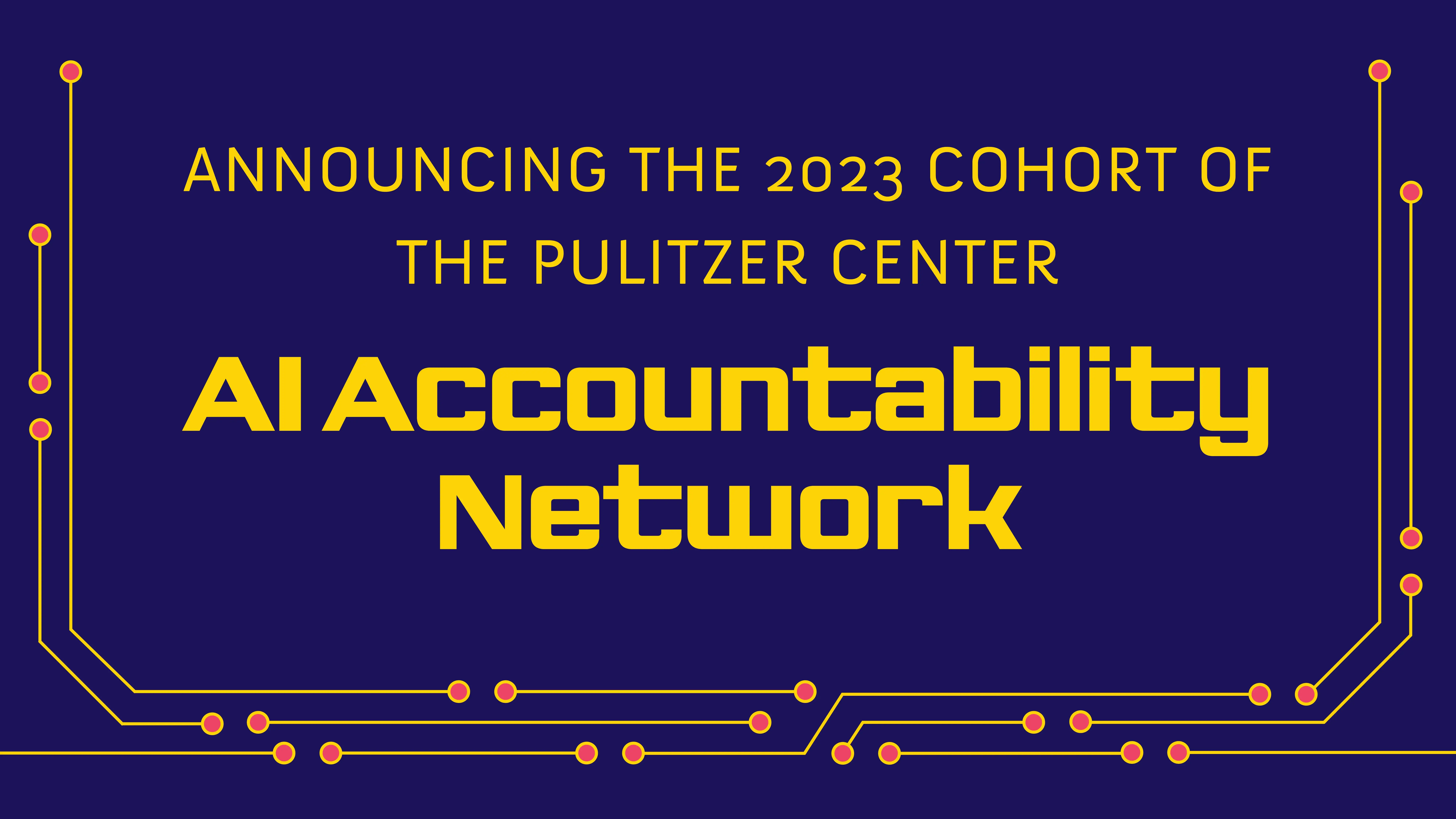 The Artificial Intelligence Accountability Network, the Pulitzer Center's initiative to support and bring together journalists reporting on AI and with AI, has selected its second cohort of AI Accountability Fellows.
Eight journalists based in five continents have been selected to spend the next 10 months investigating the impact of AI technologies on their communities.
The Fellows will track AI supply chains, investigate the development of AI-powered weapons, and report on labor, accessibility, and surveillance issues created by automated systems. They will combine cross-border collaborations, data reporting, creative visual approaches, and traditional shoe-leather reporting.
"While others focus on futuristic doomsday scenarios, this inspiring all-female cohort will document and explain the actual harms and opportunities of AI technologies in their own communities," said Marina Walker Guevara, the Pulitzer Center's executive editor. "Their reporting is urgent and a true public service at a time when most countries lack basic regulatory frameworks of AI technologies.
"The Fellows are excited to help illuminate these complex issues and later share their methods and tools as widely as possible to inspire other journalists."
The 2023-2024 AI Accountability Fellows are (in alphabetical order):
In partnership with the Digital Witness Lab at Princeton University, we are supporting Srishti Jaswal as the inaugural Digital Witness Fellow.
"We are grateful to our partners at the Pulitzer Center who are doing pioneering work building the field of global, interdisciplinary, and collaborative journalism," said Surya Mattu, lead at the Digital Witness Lab. "It was inspiring to see the diversity and ambition of projects this year, and while it was hard to make a final decision, we are excited to work with Srishti—she is an incredibly talented journalist doing important work in India. We are also glad to have gotten to know so many other journalists across the world and hope we get to collaborate with them in the future."
Through the AI Accountability Network, the Pulitzer Center seeks to address the knowledge imbalance on artificial intelligence that exists in the journalism industry, especially at the local level, and to build the capacity of journalists to report on this fast-evolving and underreported topic with skill, nuance, and impact.
In its first year, the Fellowship supported 10 journalists reporting from 10 countries. Impacts from their reporting included legislators launching inquiries, college students replicating Fellows' methods, and officials halting the deployment of new algorithms.
The AI Accountability Network is funded with the support of the Open Society Foundations (OSF), Wellspring Philanthropies, and other donors. We are also grateful to the Reporters Committee for Freedom of the Press for its generous support of the AI Accountability Fellows.
If you are a journalist or editor interested in joining this network, please visit our AI Accountability Network page for more information or email [email protected].